Computational Geomechanics using CivilFEM
Online course

50 hours / 6 weeks

Dates: to be determined

PLAZO DE INSCRIPCIÓN AMPLIADO HASTA EL 12 DE OCTUBRE
Free 1-month full commercial license to the software! A license is valued for 28000 EUR!
Free lifetime student license to the software
Introduction
This course is aimed for students with a civil engineering background and interested to have certified professional training in the Finite Element Method, with a focus on Tunneling. The goal of this course is to give the students a brief understanding of the Finite Element Method and to provide the necessary knowledge using one of the most advanced FEA software – CivilFEM Powered by Marc®, which can then be applied directly in civil engineering consulting companies, scientific research institutes/ universities and any other design & build civil engineering contractors.
With this objective in mind, the course is completely structured into software applications and practical subjects that include professional software currently used in the market, such as CivilFEM Powered by Marc®.
The main pre-requisite for this course would be undergraduate and/ or post-graduate courses in Rock Mechanics, Soil Mechanics and/ or Computational Geomechanics. An introductory Finite Element Analysis course would be highly recommended, but this is not mandatory, as a summary of the methodology will be presented within the course.
Objectives
The objectives of this course are to consolidate the foundations of the Finite Element Method, by thinking mainly about its application in civil engineering structural analysis, although the basic ideas can be generalized without any difficulty. Furthermore, it should be noted that the subject starts with the most basic concepts, initially treated intuitively in order to allow them to be easily assimilated by the students without any knowledge in finite element analysis.
The Computational Geomechanics with CivilFEM course provides 2D and 3D soil & rock mechanics solutions using any combination of beam, shell and solid elements to model tunneling supports (rockbolts, trusses, anchorages, shotcrete, steel fiber reinforced shotcrete) and lining (concrete, steel, reinforced concrete, segmental lining), and solves complex structural and soil-structure interaction problems.
---
Limited places.
Unit 1. Introduction to CivilFEM & Finite Element Analysis with CivilFEM
Unit 2. CivilFEM capabilities & solutions
Unit  3. How to create geometry
Unit  4. How to define materials & cross sections
Unit  5. Material library: soil & rock properties; material models: Mohr-Coulomb, Drucker-Prager, Hoek & Brown, Cam-Clay etc.
Unit  6. How to mesh with CivilFEM
Unit  7. How to define loads in CivilFEM ; Initial conditions and in-situ stresses for soils and rockmasses
Unit  8. Solutions options in CivilFEM; soil-structure interactions taking into account non-linear materials, geometry and contact conditions, as well as design checking of structural elements
Unit  9. Construction processes specific to tunneling: Activation/ de-activation of structural elements
Unit  10. Post-processing: How to access results in CivilFEM
Unit  11. Using Python with CivilFEM
Unit 12.  Using CivilFEM for Computational Geomechanics – Tunneling
– Exercise 1 – Tunnel excavation process in 2D – Tunnel in urban area using the German Method
– Exercise 2 – Tunnel construction in urban area (2D) using the Cut & Cover Method
– Exercise 3 – Tunnel excavation in 3D – Tunnel in Rockmass with Rockbolts and Shotcrete
Unit 13. Continuous assessment exercises review
Unit 14. Evaluation and grading
Dr. Gelu Madear
Dr. Gelu Madear graduated from the most prestigious Mining Institute in Southeastern Europe, (today called the University of Petrosani, Romania) with a B.Sc. in Mining Engineering in 1990. He also received an M.Sc. in Environmental Engineering from Polytechnic University of Turin, Italy, followed by a Ph.D. in Mining Engineering from the University of Petrosani, Transylvania, Romania.
Dr. Gelu Madear had held long term faculty appointments as Lecturer at the University of Petrosani, Romania, where he was also Director of the M.Sc. Course in EIA – Environmental Impact Assessment and Professor/ Director Geomechanics of the Polytechnic of Namibia, Windhoek.
For more than 10 years he worked in the consultancy sector in the UK and currently is anIndependent International Consultant in Computational Geomechanics.
Dr. Gelu Madear has over 30 years' experience in Civil, Mining & Environmental Engineering including academic, design and consulting, with expertise in geomechanical and geotechnical design, including numerical methods and probabilistic approaches of underground structures, in various ground conditions – from jointed rock masses to frozen grounds; used various rock mechanics and geotechnical software packages, inclusive of ITASCA – FLAC2D/ 3D, UDEC, PLAXIS 2D/ 3D, ROCSCIENCE – RS2, RS3, Examine2D, Examine3D, CivilFEM, SALOME MECA/ CODE ASTER. Implementation of Discrete Fracture Networks in Computational Geomechanics (FLAC3D) using FracMan, especially in Block Cave Mining.
He has excellent interpersonal and communications skills with the ability to work with a team from diverse disciplines, companies and nationalities.
The course is run in an online format. Throughout our innovative and powerful Virtual Campus, a dynamic and flexible environment is provided so the student can follow the course at his or her pace.
Within this virtual platform, students are in continuous contact with professor in a tailored way, solving questions together, and widening knowledge and acquiring new skills. Students can also interact with other students and professors through webinars and forums.
Plenty of content can be found in the Campus: eLearning material, videos, technical articles, manuals, complementary documentation, real examples and exercises.
(Previous knowledge, minimum software management, Professional kind, etc.)
The course is aimed at engineers at all levels and students in the last academic year, working or studying in civil and mining engineering areas, especially in the tunnelling field – consulting engineering companies, universities, research & development companies, civil & mining engineering contractors.
Computational Geomechanics using CivilFEM will teach students how to start working in CivilFEM powered by Marc. They will learn how to perform basic analysis using the standard Graphic User Interface and program approach. The course was created to provide a powerful tool to assist civil & mining engineers with any type of geomechanical problem. Some previous experience in using CAD/ FEA programs would be desirable, although it is not a pre-requisite.
The course contains detailed hands-on examples very useful for those interested in learning about Creating Geometry, Material & Sections, Meshing, Loads & Boundary Conditions, Linear static analysis and introduction to other types of analyses.
As evidence of knowledge gained throughout the course, a certificate will be issued from the Virtual platform. This certificate is based on the modern technology Blockchain, which increases security, prevents fraud, builds trust and ensures you're ready for the future.
Job prospects for this course would be mainly civil, mining and geotechnical engineers, especially in the tunnelling field – working on consulting engineering companies, universities, research & development companies, civil & mining engineering contractors.
More info
Finish this course and get a certificate based on Blockchain
Computational Geomechanics using CivilFEM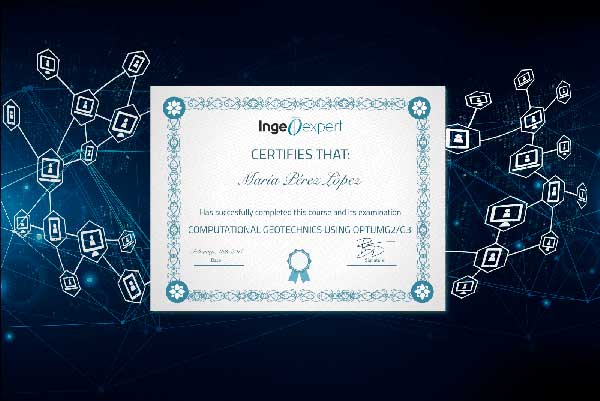 Blockchain technology makes the certificate incorruptible, enabling companies to verifiy its autenticity.
Computational Geomechanics using CivilFEM