Course: Grading, Drainage and Erosion Control
| | |
| --- | --- |
| | Online course |
| | Dates: to be determined |
| | 50 hours / 6 weeks |
Introduction
The course covers grading and drainage techniques from basics to complex designs for who is in the field of Civil Engineering and/or Land Development. By the end of the course you'll be able to identify and apply grading, drainage, and erosion control techniques and methods on real life projects.
The course focuses on developing grading and drainage design skills to complete simple or complex projects starting from existing topography to a finalized grading and drainage plans.
---
Limited places.
1- Purpose and Importance of Grading
2- Grading and Drainage basics, techniques and Calculations
3- Guide lines for Grading Plans
4- Temporary and permanent erosion control design
Nader Salama
Nader is a US licensed professional civil engineer, received his bachelor degree in civil engineering in 1999 and gained his professional engineer license in 2009. He gained extensive experience in civil engineering by holding different positions over a wide range of projects in public and private sectors. Was the lead civil engineer over several megaprojects in the United States of America and overseas (UK, Mexico, Chile, Egypt, KSa…). Nader has more than 25 years of Civil engineering experience in mining, nuclear power plants, industrial, transportation, residential, and public projects.
Within this virtual platform, students are in continuous contact with professor in a tailored way, solving questions together, and widening knowledge and acquiring new skills. Students can also interact with other students and professors through webinars and forums.
Plenty of content can be found in the Campus: eLearning material, videos, technical articles, manuals, complementary documentation, real examples and exercises.
· Civil Engineers at all levels
· College and university students who wish to learn real-life grading design
· New graduate civil engineers who need to gain grading design knowledge and techniques
· Designers and technicians that need to expand their design knowledge and extend there grading abilities
· Developers who need to know about grading requirements and regulations
· Structural and Architectural engineers that need to get more familiar by the civil work roll in the project
· Public agencies civil engineers and associates who need to know the importance of grading and essential requirements for new development safety
· Land development consultants need to know about public agencies general requirements for grading new developments and applying for grading permit
As evidence of knowledge gained throughout the course, a certificate will be issued from the Virtual platform. This certificate is based on the modern technology Blockchain, which increases security, prevents fraud, builds trust and ensures you're ready for the future.
Grading, drainage and erosion control are the foundation for every construction project. The course provides the design guidelines to create a full set of grading plans for any nature of construction project. Also, the course will cover the public agencies' general requirements to obtain a grading permit for residential and commercial projects.
Participants will receive adequate real-life practical design techniques to be confident in grading any nature of projects in residential, commercial, or industrial fields.
Get a free virtual campus tour
Finish this course and get a certificate based on Blockchain
Course: Grading, Drainage and Erosion Control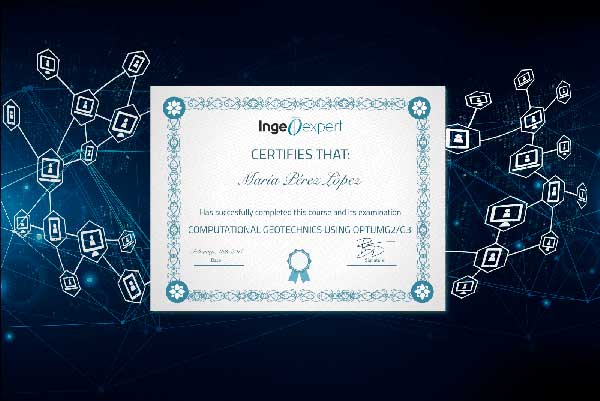 Blockchain technology makes the certificate incorruptible, enabling companies to verifiy its autenticity.
Course: Grading, Drainage and Erosion Control