Geotechnical characterization of coarse granular materials
| | |
| --- | --- |
| | Online course |
| | 50 hours / 6 weeks |
| | Dates: to be determined |
Get access to our job listing after finishing the course
Introduction
The geotechnical characterization of coarse granular materials (CGM) is an important topic in geotechnical engineering, but at the same time not well studied and developed. On the one hand, CGM are generated by external geological processes (transport, erosion and sedimentation), but also by direct extraction from the parent rock (for example quarry rockfill, mining blasting materials), which implies that each CGM has unique intrinsic particles properties, particularly in terms of shape and particle's strength. In addition, gradations of CGM can contain blocks with particle diameters greater than 1 m, which greatly complicates the execution of in-situ and laboratory testing programs. For this latter, there are currently different size-scale methodologies for particle size distributions, which, unfortunately, have important limitations in their use. Thus, the geotechnical characterization of CGM is a complex subject to study, especially in important civil engineering and mining structures such as rockfill dams and waste rock dumps.
This exclusive course taught by Dr. Leonardo Dorador, Civil Engineer with specialization in Geotechnics and Geological Engineering, is presented through video tutorials and multimedia content within the Moodle virtual platform, with exercises like tests and practical cases.
Objectives
The objective of this course is to provide the necessary knowledge to perform a geotechnical characterization related to coarse-grained soils and rock-piles, with special emphasis on its mechanical properties.
This course covers the study of different types of coarse-grained materials and their main geotechnical characteristics. In addition, an important part of the course is oriented to the size-scaling methodologies, which are fundamental for the execution of small-scale laboratory tests, required along the design of engineering projects.
Finally, this course includes an in-depth analysis of the shear strength of CGM. The use of the Leps' chart is discussed, and new shear strength envelopes are presented, including large-scale triaxial and large direct shear tests up to date. Finally, additional variables of the MMG such as deformation modules, minimum and maximum densities, particle breakage, among others are also analyzed in detail.
---
Limited places.
MODULE 1: INTRODUCTION
Part 1: Types of Coarse-Grained Materials (CGM)
– Sedimentary Coarse-Grained Soils
– Rock-piles not affected by transport and erosion process
Part 2: Sedimentary Coarse-Grained Soils
-Fluvial Material
-Alluvial Material
-Colluvium
-Glacial Till
-Soil-rock mixtures
Part 3: Rock-piles not affected by transport and erosion process
-Quarry Rockfill
-Mining Waste Rocks (MWRM)
-Heap Leached Materials (HLM)
-Broken Ore Materials in Underground Mining (BOM)
Part 4: CGM formation
Part 5: CGM in engineering and mining projects
MODULE 2: CLASSIFICATION AND CHARACTERISTICS OF COARSE-GRAINED MATERIALS (CGM)
Part 1: Grouping and Classification of CGM
Part 2: Geotechnical properties of CGM
-Intrinsic properties
-State properties
MODULE 3: SIZE-SCALING METHODS OF CGM
Part 1: Scalping Method
Part 2: Scalping and Replacement Method
Part 3: Parallel Gradation Method (PGM)
Part 4: Matrix method
Part 5: Quadratic grain-size scaling procedure
Part 6: Recommendations for use of each method depending on type of CGM
MODULE 4: GEOTECHNICAL CHARACTERIZATION ON CGM
Part 1: Standards procedures of Geotechnical characterization
Part 2: In situ and laboratory testing
Part 3: Practice in geotechnical characterization
Part 4: Additional considerations regarding geotechnical characterization on CGM
MODULE 5: MECHANICAL PROPERTIES OF CGM
Part 1: Shear strength
Part 2: Deformation modulus
Leonardo Dorador
PhD in Geological Engineering from the University of British Columbia (UBC), Canada. Master in Engineering Sciences, mention in Geotechnical Engineering and Bachelor of Science in Civil Engineering from the University of Chile.
He holds 10 years of knowledge in geotechnical engineering obtained in Chile, Canada and USA, mostly in geotechnical studies of rock-piles and coarse granular soils. His experience includes large triaxial test programs, slope stability analysis and embankment dam design.
He is currently a Geotechnical Engineer at Advanced Earth Sciences in Los Angeles, California and has also worked as a geotechnical engineer in consulting firms specialized in engineering as well as an independent consultant.
He is author / co-author of 18 articles and a book chapter related to geotechnical characterization of coarse granular materials, large triaxial tests, particle breakage and geotechnical characterization of broken ore materials in underground mining.
The course is run in an online format. Throughout our innovative and powerful Virtual Campus, a dynamic and flexible environment is provided so the student can follow the course at his or her pace.
Within this virtual platform, students are in continuous contact with professors in a tailored way, solving questions together, and widening knowledge and acquiring new skills. Students can also interact with other students and professors through webinars and forums.
Plenty of content can be found in the Campus: eLearning material, videos, technical articles, manuals, complementary documentation, real examples and exercises.
Civil Engineers, Geologists, Geophysicists and Mining Engineer, especially:
-Geotechnical engineers in charge of rockfill dams
-Geotechnical engineers responsible for the characterization of coarse foundation soils
-Engineers dedicated to 2D and 3D numerical modeling of rockfill dams and large waste rock dumps
-Mining or geotechnical engineers in charge of the stability of dumps, stockpiles or heap leached pads
-Pavement engineer and railway design engineers
-Geologists and geophysicists in charge of watershed characterization and landslides.
-Geotechnical engineering students
As a proof of the knowledge gained throughout the course, a certificate will be issued from the Virtual platform. This certificate is based on the modern technology Blockchain, which increases security, prevents fraud, builds trust and ensures you're ready for the future.
-Geotechnical engineering
-Geology
-Civil Engineering
-Mining engineering
More info
Finish this course and get a certificate based on Blockchain
Geotechnical characterization of coarse granular materials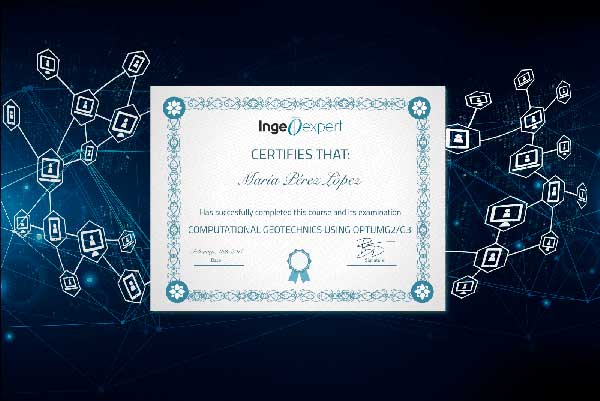 Blockchain technology makes the certificate incorruptible, enabling companies to verifiy its autenticity.