Geotechnical course using Oasys software
| | |
| --- | --- |
| | Online course |
| | 50 hours / 6 weeks |
| | Dates: to be determined |
Free license to the software during the course
Introduction
This course will give attendees the opportunity to apply Geotechnical Design software to a range of different problems. Users will be introduced to the base theory and then be given licenses to the software to run through real-world problems. They will be guided through the process by an experienced Geotechnical Engineer.
The course is presented through video tutorials and multimedia content within the Moodle virtual platform, with exercises like tests and practical cases, along with live webinars.
---
Limited places.
– Retaining wall analysis
– Slope stability analysis
– Single pile analysis
– Soil settlement
Users will be introduced to the topic with recorded videos and a step-by-step tutorial which will show them how to set up the analysis using the Oasys software. They will then have a live session with the tutor to discuss their analysis and the analysis methods. This will consolidate their learning.
You will be guided through the course by Zeena Farook, a Chartered Geotechnical Engineer and Application Specialist for the Geotechnical Oasys suite of software.
She has over 10 years of experience in Geotechnical Design at Arup (https://www.arup.com/), working on foundation and tunnelling design for major infrastructure and building projects.
For more information about the tutor please see her LinkedIn page: https://uk.linkedin.com/in/zeenafarook
The course is run in an online format. Throughout our innovative and powerful Virtual Campus, a dynamic and flexible environment is provided so the student can follow the course at his or her pace.
Within this virtual platform, students are in continuous contact with professor in a tailored way, solving questions together, and widening knowledge and acquiring new skills. Students can also interact with other students and professors through webinars and forums.
Plenty of content can be found in the Campus: eLearning material, videos, technical articles, manuals, complementary documentation, real examples and exercises.
Civil Engineers, Structural Engineers and Geotechnical Engineers who are looking to design structures underground and would like to understand the basic theory behind the analysis and how to progress with software. Some prior knowledge of Geotechnical methods will be required as users will be expected to check their work.
As evidence of knowledge gained throughout the course, a certificate will be issued from the Virtual platform. This certificate is based on the modern technology Blockchain, which increases security, prevents fraud, builds trust and ensures you're ready for the future.
This course will add to your CPD record and give you a grounding in Geotechnical Analysis. At the end of the course trainees will be proficient in the use of Oasys Geotechnical analysis tools and this may provide opportunities to carry out designs and advance their career.
Get a free virtual campus tour
Finish this course and get a certificate based on Blockchain
Geotechnical course using Oasys software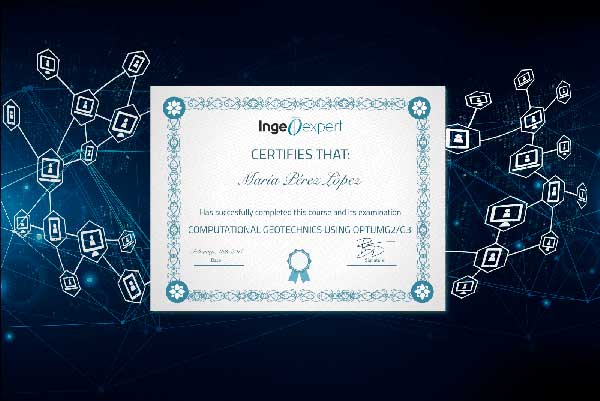 Blockchain technology makes the certificate incorruptible, enabling companies to verifiy its autenticity.
Geotechnical course using Oasys software