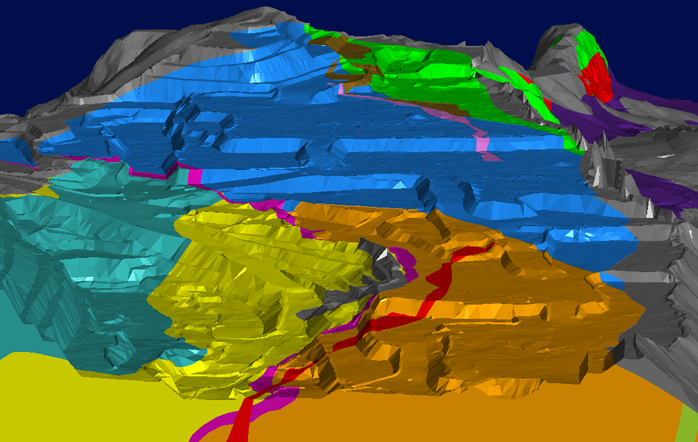 Introduction to Leapfrog Geo
| | |
| --- | --- |
| | Online course |
| | 50 hours / 6 weeks |
| | To be determined |
Introduction
This course introduces attendees to Seequent's Leapfrog Geo 3D geological modelling software. It assumes no prior knowledge of 3D modelling but does expect that participants adequately understand the geological concepts and data types / quality aspects relevant to modelling. It is suitable for professional or aspiring geoscientists who work in either industry or research on minerals projects.
Leapfrog Geo enables modelling of numeric data (assay values or sensor information) and categorical data (such as lithology and alteration) using implicit modelling techniques. These techniques leverage both the data distribution and their value to enhance modelling effectiveness.
Since being released in 2004 the software has risen to an industry-leading position in 3D modelling and interpretation, with many other software providers seeking to emulate aspects of Seequent's Leapfrog Geo functionality.
This introductory course will enable participants to, at first, work with a supplied simplified, dataset for the initial training. Then the course will move on to a more advanced phase utilizing one of several supplied 'real-world' datasets, or attendees' own data, to further develop skills, experience, model outcomes and understanding.
Objectives
On completing the course students will understand much of the functional scope of Seequent's Leapfrog Geo software and have the confidence and experience to apply the software in their day-to-day assessment and modelling of geological data.
---
Limited places.
Week 1: Software overview, setup and categorical data modelling.
10 hours including a 2-hour webinar.
Video content: Introduction to leapfrog and implicit modelling – what makes it different to other modelling approaches? What is the software doing in the background? Installing and setting up the software on your PC; The user interface and display options; importing and validating drillhole data; display and manipulation of data; importing and validating point data; creating topographic models; modelling categorical data; applying anisotropy; setting chronology for 'seamless' model outputs. Dynamic linkage in the Leapfrog Project Tree.
Webinar content: Categorical data modelling of lithology and oxidation data
Week 2: Numeric data modelling.
10 hours including a 2-hour webinar.
Video content: Import, validation, display and analysis of numeric data; modelling numeric data, applying anisotropy, and developing structural trends; polyline surface creation and adjustment; merging data and combining models; hybrid modelling; comparing models and optimising model outputs.
Webinar content: Numeric data modelling and dynamic anisotropy via structural trends
Week 3: Structural data, fault modelling and assorted functionality.
10 hours including a 2-hour webinar.
Video content: Importing, display, analysis, and modelling of structural data, importing images and maps, adjusting models with new data, importing geophysical data, fault modelling, cross sections and layouts, exporting models and data, designing drillholes, creating database tables from models, exporting scenes and movie making.
Webinar content: structural data and fault modelling, designing drillholes.
Week 4: Real-world dataset 1 – Vein modelling exercise.
10 hours including a 2-hour webinar.
Video content: Real world dataset examining vein modelling, building a project up from the start using prior learning from course. Practice!
Webinar content: vein modelling exercises.
Week 5: Real-world dataset 2 – students own data or provided material.
10 hours including a 2-hour webinar.
Exercise on own dataset or an additional provided dataset. Aim to create a project and apply techniques from training with individual support from the trainer as required. Next steps in skills development will be discussed including an overview of Leapfrog EDGE resource estimation software. Webinar will be a 'show and tell' of models produced (with confidentiality as required) and course conclusion.
Dale Sims
Dale Sims is an Australian independent geoscience consultant with over 35 years of international mineral sector experience, dominantly in mining geology, resource development, near mine exploration and resource modelling / estimation. Prior to becoming an independent consultant in 2011 he had worked for major Australian and international mining companies focusing on base metal and/or gold exploration and production, including working as an internal technical expert on resource modelling and project development. He has worked on major mines or projects in Australia, New Zealand, America, Canada, Peru, Indonesia, Ghana and Laos.
Dale commenced his engagement with Leapfrog software in 2004 when he convinced his then employer Newmont to purchase a copy of the only-recently released Leapfrog Mining software to test against the established modelling software at Newmont sites internationally. The advantages of the software were immediately apparent. Since that time Dale has maintained currency in the software and introduced it to many geoscientists either through focused corporate roll-outs, or facilitating internal or external training courses.
Apart from training people to use the Leapfrog Geo, Dale consults on site projects where Leapfrog provides opportunities to advance and enhance the understanding and communication of geological models.
Delivering Leapfrog Geo training online has its challenges! During the Covid pandemic Dale delivered a number of remote Leapfrog Geo training courses via Zoom and appreciates how difficult it can be to learn software remotely. This course will allow attendees to work at their own pace and offer refresher sessions via webinars or allow more advanced students to forge ahead with the support needed to ensure all attendees achieve the course goals with requisite effort. Dale is not employed by Seequent and so this is an independent course run based on his extensive industry experience in applying the software into a number of geological scenarios.
The course is delivered online through our easy-to-use Virtual Campus platform. For this course, a variety of content is provided including:
– Videos
– Live webinar classes
– Texts and technical articles
– End of course video output from each student
Students can download the materials and work through the course at their own pace.
Live webinars form part of our course delivery. These allow students and the instructor/professor to go through the course materials, modelling processes, and use example datasets to solve problems together in a virtual classroom setting. Students can also make use of the platform's forum, a meeting point to interact with the instructor/professor and other students.
The tutoring system is managed by email. Students can email the tutor with any questions about the course and the tutor will be happy to help taking into account time zones and other work activity.
This introductory course is aimed at all geoscientists looking to develop or expand their 3D modelling skills. It will suit advanced level undergraduate or postgraduate students, early or mid-career geoscientists as well as more experienced professionals.
This introduction to Leapfrog Geo also teaches similar workflows to other Seequent products like Leapfrog Works – hence the course would be of interest to engineering geologists and hydrogeologists working in civil engineering or construction / site investigation areas.
No prior 3D modelling skills or experience are assumed given its introductory nature, although experienced modelers interested to learn the differences with and advantages from using Leapfrog Geo will also benefit from the course.
Attendees do need to understand general geological concepts important for 3D interpretation; rock unit sequencing/overprinting relationships and general rock unit types and expected 'field' relationships. In general, a degree in an earth science related field is desirable.
As much of the data utilized in this course is from drilling, an understanding of the drilling processes in wide use in industry is also advantageous.
The software is Microsoft Windows based and so attendees must be able to access and capably use a Windows PC for the course. Minimum hardware requirements can be found here; https://www.seequent.com/help-support/system-requirements/leapfrog3d/
[Although the software can run in a Windows emulator (e.g. 'Parallels') on a Mac it is not supported in this mode hence Mac's are not recommended for the course attendees. Any training difficulties experienced by attendees choosing to use Mac hardware will not be allowed to delay the course delivery.]
The training will be run in the most current version of Leapfrog Geo software at the time of course commencement.
Once a student finishes the course and successfully completes the assignments and evaluation tests, they are sent an accreditation certificate. The certificate is issued by Ingeoexpert to verify that the student has passed the course. It is a digital certificate that is unique and tamper-proof – it is protected by Blockchain technology. This means it is possible for anyone to check that it is an authentic, original document.
You will be able to download the certificate in an electronic format from the Virtual Campus platform. The certificate can be forwarded by email, shared on social networks, and embedded on websites. To see an example, click here.
Geological and resource modelling is generally a specialist career path opportunity. It draws on considerable levels of experience with data and its application over a range of geological scenarios. The fundamental ease-of-use and visual superiority of Leapfrog Geo is seeing considerably wider application of this software in 3D modelling and data review/analysis in daily exploration and mining activity.
I consider that 3D data analysis and modelling skills are an increasingly a valued component in geoscientist recruitment and retention, hence geoscientists from graduate upwards should be looking to develop 3D modelling exposure and skills if they do not already possess them.
Even if you don't want to become a full-time modeler building 3D skills will assist in assessment of nearly all geological data you need to deal with in your minerals industry career.
More info
Finish this course and get a certificate based on Blockchain
Introduction to Leapfrog Geo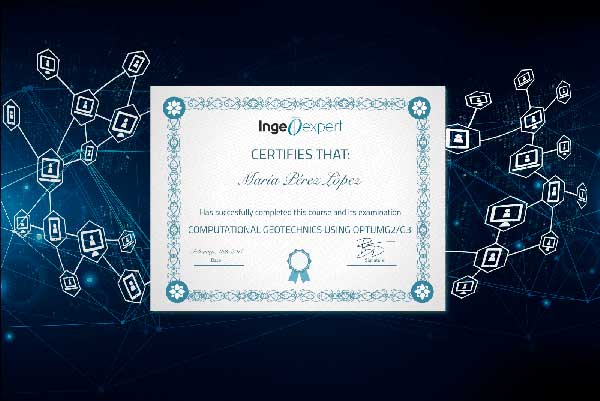 Blockchain technology makes the certificate incorruptible, enabling companies to verifiy its autenticity.
Introduction to Leapfrog Geo