Volcanology
| | |
| --- | --- |
| | Online course |
| | 50 hours / 6 weeks |
| | Dates: to be determined |
Objectives
Volcanoes are fascinating and dangerous. Welcome to a journey into the world of volcanic activities and rock forming processes.
The course will start with some basics: A definition of a volcano and, based on mineralogy and geochemistry, simple nomenclature systems for volcanic rocks will be presented.
The recognition of the distribution of volcanoes on the earth's surface, in respect to the plate tectonics, leads to three general scenarios of the location of volcanoes: at destructive plate margins (subduction zones), at constructive plate margins (mid ocean ridges), and within plates, both oceanic and continental (hot spots, rifts, and other).
The basic two types of eruption, effluent vs. explosive, will be discussed and correlated to the geological setting and differences in geochemistry. Examples will be given and discussed for each setting.
Besides the volcanic deposits, e.g. lava, pyroclastic flows, ash and pumice fall outs, the area around a volcano might also be disturbed by landslides due to flank collapse of the volcano, and lahars (mud flows), which are thunderstorms related and induces by the eruption. The general weather might be affected by ash clouds that are introduced in the atmosphere (especially when reaching the meso- and strato-sphere), which can cause worldwide drastic weather changes due to blocking the sunlight up to and sometimes even more than one-year duration.
Several important historic volcanic events and catastrophes will be presented. Based on historical observations, the development of a better understanding and a comprehensive description of the explosive volcanism and the related rock and deposit formation will be discussed.
The aim of this course is to give the student a full overview on all major volcanic activities and processes that can explain the volcanic rock types present on the earth's surface. Also, some hints will be given to possibly related ore and mineral deposits. 
---
Limited places.
Module 1: Introduction
– Definitions
– Nomenclatures
– Rocks
– Historic Eruptions 1
Module 2: Explosive Volcanism 1
– Plate tectonics
– Volcanic/Pyroclstic deposits
– Historic Eruptions 2
Module 3: Explosive Volcanism 2
– Eruption cycles
– Geochemistry and deposits
– Historic Eruptions 3
Module 4: Plate Boundary Volcanism
– Eruption types
– Geochemistry and deposits
– Historic Eruptions 4
Module 5: Hot Spot Volcanism
– Eruption types
– Geochemistry
– Historic Eruptions 5
Module 6: Alkaline Volcanics, Carbonatites, and Kimberlites
– Plate tectonic positions and deposits
– Alkaline Volcanics
– Carbonatites
– Kimberlites
General Conclusions and Summaries
Mathias Westphal
Dr. Mathias Westphal holds a doctorate degree in natural science from the University Freiburg, Germany. His Master's thesis was on the 'Muenstertal Ignimbrite, Black Forrest' mentored by Prof. Dr. Joerg Keller, a well-known European Volcanologist.
He has been over 25 years working in the field of Geology that connects igneous, metamorphic, and structural Geology, which also has a significant influence on the formation of mineral deposits. He has also teaching experience at the University of Freiburg, The UBC (University of British Columbia) and the University of Tuebingen.
Since 2003 he was working for the mineral exploration and mineral extraction industry as an employee for TeckCominco Metals, now named Teck Resources, and since 2007 as a freelancer in northern British Columbia, Canada, based out of Smithers, B.C. The latest project is an underground gold/silver mine associated with a Mesozoic volcano, where he is working as an underground geologist.
Within this virtual platform, students are in continuous contact with professor in a tailored way, solving questions together, and widening knowledge and acquiring new skills. Students can also interact with other students and professors through webinars and forums.
Plenty of content can be found in the Campus: eLearning material, videos, technical articles, manuals, complementary documentation, real examples and exercises.
This course is aiming for first and second year students in Geology as an introduction to igneous petrology and also has an interest in some basics of economic Geology. Knowledge on rock identification, plate tectonics, and general geological introduction would be a plus, but not a necessity.
As evidence of knowledge gained throughout the course, a certificate will be issued from the Virtual platform. This certificate is based on the modern technology Blockchain, which increases security, prevents fraud, builds trust and ensures you're ready for the future.
The knowledge on volcanic rocks and geological settings in combination with possible mineral and rock deposits is always a benefit.
Get a free virtual campus tour
Finish this course and get a certificate based on Blockchain
Volcanology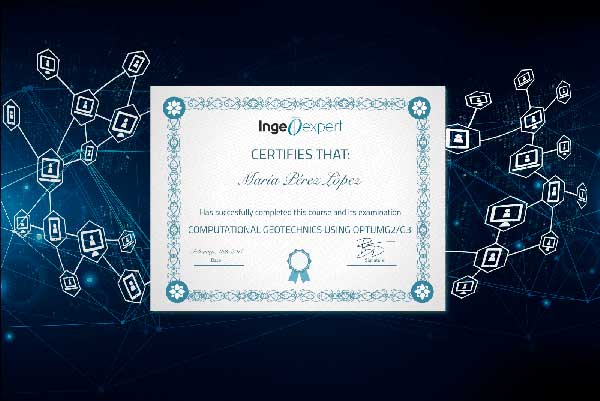 Blockchain technology makes the certificate incorruptible, enabling companies to verifiy its autenticity.