Applied Paleontology course
| | |
| --- | --- |
| | Online course |
| | 50 hours / 6 weeks |
| | To be determined |
In collaboration with the California State University, Chico

Introduction
Applied Paleontology is a course designed for geologists with a focus on understanding how fossils are formed and how to use fossils to solve geological problems.  The focus of the course is on the invertebrate fossil record as those are most common fossils observed in the field and in well cuttings.  Each week, we will explore a different group of fossils and use those fossils to address the main themes of evolution, extinction, paleoecology, and correlation.  The ultimate goal is to provide you an appreciation of the diversity of the fossil record and confidence with using fossils to address real questions in geology.
The course is designed to run for six weeks with approximately 10 hours of work per week.  In lieu of a standard textbook, you will be provided with weekly prompts, questions, summaries, and vocabulary and direction for seeking out the information.  The instructor will host a live webinar at the beginning and end of each section to answer questions and further explore the previous topic while also introducing the new topic.  In addition, recorded presentations on each subtopic will also be available.  With each fossil group, you will be provided with a manual describing the paleobiology, geological history, and key details of each group as well as exercises to test your knowledge.  Finally, various guest paleontologists from around the world will also provide additional viewpoints, sharing how they study the fossil record and current ideas on the topics.
Objectives
At the conclusion of the course, you will understand how fossils form and the benefits and limitations to using them to solve geological problems.  By spending time with each phylum, you will have a fuller understanding of the diversity of the invertebrate fossil record.  We will also use modern techniques of assessing and analyzing data, giving you skills which will extend beyond paleontology.  Finally, it is also a course objective to understand the legal and ethical issues surrounding fossil collecting and protection of resources.
---
Limited places.
This course is about using fossils as tools in geology as opposed to a "life through time" presentation.  The course is divided into three sections and each section has a series of subtopics to emphasize the themes:
Paleobiology: How fossils represent ancient life
– Species Concept.  How do we define species in the fossil record and how robust is the data?
– Evolution Principles and Rates.  Using fossils, we can look for patterns in evolution and measure the rate of change.
– Extinction.  We will explore what causes the extinction of a group of organisms and look for patterns through Earth history.
Foundation of the Data: Fossils in context as information to address geological questions
– Taphonomy.  How fossils are made, preserved, and the information fossilization can tell us about the geological environment.
– Systematics.  How are fossils formally named and how does the classic Linnean taxonomy compare with modern cladistic organization?
– Population.  This topic explores paleoecology by looking at the distribution patterns of fossils.
– Variation and Functional Morphology.  Many extinct animals have body shapes that cannot be readily explained by looking at modern organisms.  We will investigate how paleontologists understand the fuctions of different anatomical features.
Fossils as Geologic Data: Common uses of fossils
– Lagerstätten.  Lagerstätten are unique deposits of exceptional preservation.  We will explore some of the key ones around the planet, focusing on the unique environments as well as the information that is gained.
– Biostratigraphy.  This section goes into detail on how we use fossils to tell time and correlate strata.
– Biofacies and Ichnofacies.  Fossils, whether body fossils or evidence of movement, are key tools for defining facies.
– Paleobiogeography.  Fossils have provided key evidence for unraveling plate tectonic movements, particularly in a pre-Pangaean world.
– Regulation, Law, and Ethics.  In this final section, we will discuss governmental regulations aimed at protecting fossils as well as discuss ethical issues surrounding paleontology.
Throughout the course we will explore the major invertebrate groups as well as microfossils, microbialites and other trace fossils.  In addition to learning about each group, we will use the fossils to address the subtopics listed above.  During the course, the following fossil groups will be surveyed:
Stromatolites and Sponges; Corals; Mollusks; Trilobites; Echinoderms; Brachiopods; Bryozoans; Trace Fossils; and Microfossils
Russell Shapiro
Dr. Russell Shapiro is a Professor of Geology at the California State University in Chico, California, USA.  In addition to courses in Invertebrate Paleontology and Applied Paleontology, he has taught in a variety of field courses both at Chico and for the International Geobiology Course.  As a researcher, Dr. Shapiro is interested in the microbial fossil record from ancient stromatolites and microbial mats to the complex ecological systems that thrive at methane seeps.  In his role as a professional paleontologist, Dr. Shapiro works for several consulting firms to mitigate loss of fossil resources due to construction activities.  He is currently an associate editor for the journals "Astrobiology" and "Geobiology" and is active in several societies.
The course is delivered online through our easy-to-use Virtual Campus platform. For this course, a variety of content is provided including:
– eLearning materials
– Videos
– Interactive multimedia content
– Live webinar classes
– Texts and technical articles
– Case studies
– Assignments and evaluation exercises
Students can download the materials and work through the course at their own pace.
We regularly update this course to ensure the latest news and state-of-the-art developments are covered, and your knowledge of the subject is current.
Live webinars form part of our course delivery. These allow students and tutors to go through the course materials, exchange ideas and knowledge, and solve problems together in a virtual classroom setting. Students can also make use of the platform's forum, a meeting point to interact with tutors and other students.
The tutoring system is managed by email. Students can email the tutor with any questions about the course and the tutor will be happy to help.
This course is targeted toward geologists with limited background in paleontology.  A basic understanding of spreadsheets and accessing databases will be beneficial but is not necessary.
Once a student finishes the course and successfully completes the assignments and evaluation tests, they are sent an accreditation certificate. The certificate is issued by Ingeoexpert to verify that the student has passed the course. It is a digital certificate that is unique and tamper-proof – it is protected by Blockchain technology. This means it is possible for anyone to check that it is an authentic, original document.
You will be able to download the certificate in an electronic format from the Virtual Campus platform. The certificate can be forwarded by email, shared on social networks, and embedded on websites. To see an example, click here.
The lessons provided in this course will help geologists expand their ability to do facies interpretation, biostratigaphy, and fossil identification.  This will lead to more opportunities in economic geology, particularly oil and gas, as well as resource protection.
More info
Finish this course and get a certificate based on Blockchain
Applied Paleontology course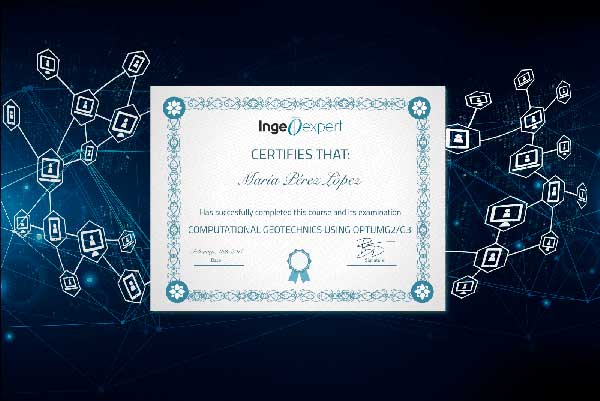 Blockchain technology makes the certificate incorruptible, enabling companies to verifiy its autenticity.
Applied Paleontology course