Computational Geotechnics using OptumG2/G3
| | |
| --- | --- |
| | Online course |
| | 50 hours / 6 weeks |
| | Dates: to be determined |
Free license to the software! A free license is valued for 7900 EUR.
Introduction
This course covers basic and more advanced computational geotechnics using the software packages OptumG2 and OptumG3. At the end of the course students will be able to:
Compute bearing capacities of typical geostructures in 2D and 3D
Compute factors of safety for slopes, retaining walls and similar structures
Simulate deep excavations using relevant soil models
Simulate the construction of embankments on soft soil.
The course is presented through video tutorials and multimedia content within the Moodle virtual platform, with exercises like tests and practical cases, along with live webinars.
---
Limited places.
1. Introduction to OptumG2
2. Limit analysis
3. Strength reduction analysis
4. Retaining systems and deep excavations
5. Embankment construction and slope stability
6. 3D modelling using OptumG3
Kristian Krabbenhoft
Kristian Krabbenhoft received his MSc and PhD from the Technical University of Denmark in 2000 and 2003 respectively. He then joined the University of Newcastle, Australia before moving to the University of Liverpool, UK where he currently holds the Chair of Geomechanics. He has held visiting positions at a number of universities including Ecole Polytechnique and ENS (France), DTU (Denmark), Caltech (USA), and Tsinghua University (China). His research interests include theoretical and computational geomechanics, off-shore geotechnics, and constitutive modelling.
The course is run in an online format. Throughout our innovative and powerful Virtual Campus, a dynamic and flexible environment is provided so the student can follow the course at his or her pace.
Within this virtual platform, students are in continuous contact with professor in a tailored way, solving questions together, and widening knowledge and acquiring new skills. Students can also interact with other students and professors through webinars and forums.
Plenty of content can be found in the Campus: eLearning material, videos, technical articles, manuals, complementary documentation, real examples and exercises.
The course is aimed at engineers at all levels. Engineers not familiar with computational methods will receive an introduction to those and more experienced engineers will be introduced to a range of new methods that will allow them to conduct analysis and design in a more efficient manner.
As evidence of knowledge gained throughout the course, a certificate will be issued from the Virtual platform. This certificate is based on the modern technology Blockchain, which increases security, prevents fraud, builds trust and ensures you're ready for the future.
Computational methods are an essential part of modern geotechnical engineering consultancy. The course provides a comprehensive overview of these methods and introduces the students to a range of new tools that are of great use in engineering practice.
Get a free virtual campus tour
Finish this course and get a certificate based on Blockchain
Computational Geotechnics using OptumG2/G3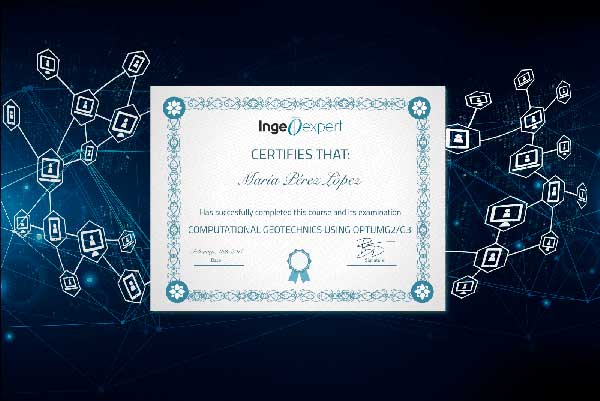 Blockchain technology makes the certificate incorruptible, enabling companies to verifiy its autenticity.