Design and construction of large diameter foundation bored piles
| | |
| --- | --- |
| | Online course |
| | 50 hours / 6 weeks |
| | Dates: 2nd of November – 14th of December |
Standard

Unemployed Or Student

350

€

250

€
RSPile software temporary license will be provided for the course attendees
Introduction
This six-weeks course is intended to include material that can be basis of design for bored piles. The presented subjects will be more towards practical methods used for design and the theoretical origins of those methods. Construction methods and tolerances will also be passed over. Mainly, ICE SPERW will be the basis for construction specifications. Comprehensive explanation of ACI codes and committees and some of EC provisions is presented.
The modules are devoted to both geotechnical and structural design of bored piles. The geotechnical part includes the estimation of the carrying capacity of the piles, the safety factors, the settlement at working loads, the lateral load analysis, the group effect and static load tests. While the structural part comprises of determination of required longitudinal reinforcement, shear reinforcement, crack width control and a rapid overview of factors that control the service lifetime of the piles.
Objectives
Subjects given in this course cannot be found in a single textbook. The aim of the course is to gather enough information about the design and construction of bored piles for engineers intending to challenge this field. Also, it is useful for civil/geotechnical engineering students that have finished a first course in soil mechanics or geotechnical engineering or postgraduate students who would like to continue research about bored piles and deep foundations. On the other hand, structural engineers that use piles in their designs shall be greatly benefited from the methods and information introduced.
---
Limited places.
Module 1. Piles and Bored Pile Construction

Pile Foundation- Definition
Pile Types- Bored Piles
Construction of Bored Piles
ICE SPERW, ACI 336, EC7
Casings: Alignment Installation and Extraction, Boring: Augers and Buckets, Drilling Mud or Fluid, Cleaning Bucket
Steel Cage Preparation: Spacers
Concreting: Pumping, Tremie Pipes, Slump, Temperature
Tolerances BS8004, EC7, ICE SPERW, ACI 117
Module 2. Bore Piles Carrying Capacity

General Mechanism
Estimating Skin Resistance in Cohesionless Soil
Beta Method
Lateral pressure coefficient methods
Estimating Skin Resistance in Cohesive Soils
The Alpha Method
Weak Rocks
DM7-Method
Williams and Pells Method
Other Methods in Weak Rocks
Estimation of End Bearing Resistance in Cohesionless Soils
Estimation of End Bearing Resistance in Cohesive Soils
Estimation of End bearing Resistance in weak rocks
SPT Methods
Module 3. Pile Behavior and Pile Groups

Settlement Calculations
Vesic Method- Q-z, T-z Methods
Pile Behavior under Lateral Loads
Free Head Piles- Fixed Head Piles in Cohesive and Cohesionless soils.
Lateral Behavior in Weak Rocks
P-Y Methods.
Pile Group Effects
Negative Skin Friction
Software Example: RSPile
Module 4. Pile Design- Geotechnical Considerations

Factors of Safety
Pile Length Calculations
Average Stresses
ASD Approach
LRFD Service Load Combinations ACI 336
Module 5. Pile Design- Structural Considerations

LRFD Ultimate Load Combinations ACI 318/ ASCE 7
Design for Combined Axial Force and Bending Moment
Design for Shear
Control of Crack Width
Overlaps and Dowel Lengths of Reinforcement
Buckling and Above COL Loads
Module 6. Static Load tests

Methods of Load Application ICE SPERW and ASTM D 1143
Required Test Types and Data Forms
Specifications and Dimensions
Pile Caps
Uplift Tests (Tension Tests)
Lateral Load Tests
O-Cell BDSLT Tests
Results Interpretation
Ahmed Mufty
Ass. Prof. Ahmed Mufty, Ph.D., MISSMGE completed his studies in the department of civil engineering in the university of Baghdad. He earned his B.Sc. in 1985. He continued his postgraduate study in geotechnical engineering and got his M.Sc. in 1990 and his Ph.D. in 1997. Dr. Mufty started his practical life with piles early after graduation. He started lecturing 1992 and became a faculty member in the department of civil engineering of the university of Baghdad for the period 1995-2004. After 2004, he moved to UAE and worked in pile design and construction till 2019 when he moved to Rocscience Inc. in Toronto joining the geotechnical software team as geomechanics specialist.
Dr. Mufty has more than 34 years of practical and theoretical experience in civil and geotechnical engineering and accomplished designs with full technical management for shoring of deep excavations and pile foundations for more than 100 iconic projects in Iraq, UAE, Qatar, KSA, Oman, India and Canada. He is also expert in many other fields of geotechnical engineering. He supervised 11 M.Sc. and Ph.D. Students and authored/co-authored more than 15 technical articles, one book in Arabic and 5 other public notes.
Within this virtual platform, students are in continuous contact with professor in a tailored way, solving questions together, and widening knowledge and acquiring new skills. Students can also interact with other students and professors through webinars and forums.
Plenty of content can be found in the Campus: eLearning material, videos, technical articles, manuals, complementary documentation, real examples and exercises.
– Engineers who are intending to work or working already in design or construction of bored piles.
– Post graduate students who would like to continue their research work in the field of bored piles
– Civil/ Geotechnical engineering students who completed a preliminary course in geotechnical engineering and want to move to more advanced studies.
– Consultant engineers and regulatory authority engineers who are responsible of reviewing/ approving geotechnical designs of others or in design/build contracts.
– Consultants who prepare and issue specifications for design and construction of bored piles.
– A pre-requirement for this course is knowledge of reinforced concrete beam-column design and essential soil mechanics.
As evidence of knowledge gained throughout the course, a certificate will be issued from the Virtual platform. This certificate is based on the modern technology Blockchain, which increases security, prevents fraud, builds trust and ensures you're ready for the future.
Bored piles are the most reliable and durable foundation for heavy buildings. Bored piles transfer the loads of the building to deep strong strata. Design of piles is a hot subject and jobs for pile designers are always available especially in developing areas around the world. It is one of the best careers a geotechnical engineer may work at.
More info
Finish this course and get a certificate based on Blockchain
Design and construction of large diameter foundation bored piles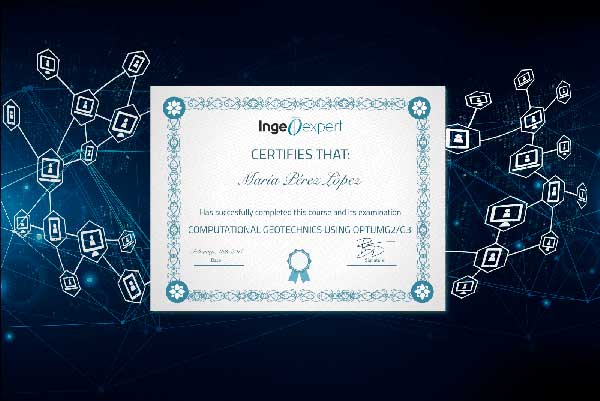 Blockchain technology makes the certificate incorruptible, enabling companies to verifiy its autenticity.