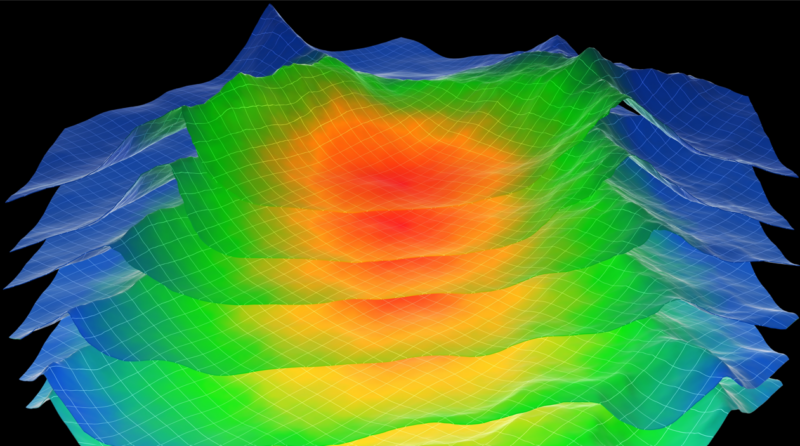 Field development geomechanics
| | |
| --- | --- |
| | Online course |
| | 50 hours / 6 weeks |
| | Dates: 18th of March to 29th of April |
Standard

Unemployed Or Student

$

292

$

205
Introduction
Integrity of the wellbore plays an important role in petroleum operations including drilling, completion, stimulation and production. Borehole failure, stuck pipe/tool, mud losses, casing collapse, compaction, subsidence, permeability reduction, sanding, and requirement for stimulation cost the oil and gas industry several billions of dollars annually. Minimizing the cost of these issues requires clear understanding of the interaction between formation properties, in‐situ stresses, and our operations. This multi-disciplinary course provides a concise overview of basic rock mechanics and its application in many practical problems encountered at well and field scales. This interactive course is presented in three modules and utilizes Excel sheets for exercise: I. Introduction to Geomechanics and Geomechanical Modeling; II. Wellbore Stability Analysis and Sand Production Prediction; III. Hydraulic/acid Fracturing and Other Applications.
Objectives
Upon completion of the course, participants will:
Understand the importance of 1D and 3D geomechanics and its applications in oil and gas industry.
Learn the theory of rock mechanics (e.g. theories of stress and strain, rock deformation and failure etc.)
Learn the data requirement for geomechanical modeling.
Be able to design rock mechanics testing program and QC the results
Be able to build geomechanical models using Excel sheet (including stresses and rock property calculations).
Be able to define safe operating mud weight window for drilling.
Be able to find the safest well trajectory to drill by generating polar plots.
Understand the effect of rock anisotropy on oil and gas operations.
Be able to verify and calibrate wellbore stability models.
Learn about wellsite wellbore instability identification.
Module I. Introduction to Geomechanics and Geomechanical Modeling
Introduction to Geomechanics
a) Overview and history
b) Importance in Oil and Gas Industry
c) Geomechanical model
d) 1D to 3D models
e) Anderson faulting theory and stress regimes
Theories and Background
a) Theory of stress
 – Stress tensor and principal stress state
 – Total and effective stresses
 – Stress around a borehole
b) Theory of deformation
 – Rock constitutive models
 – Elastic to elastoplastic deformation
 – Rock elastic constants
 – Time-dependent deformation
c) Theory of failure
– Failure mechanisms
– Failure around the borehole
 – Failure criteria
Geomechanical Modeling
a) Concepts
b) Required data
– Data wish list
– Working with minimum data
c) Rock property modeling
– Coring and core handling
– Rock mechanics testing
– Test results QC, analysis and interpretation
– Log-based rock property models
– Model calibration
– Actual examples
– Class exercise
d) Pore pressure prediction
– Concepts and definitions
– Generation mechanisms
– Data requirement
– Measurements
– Prediction methods
– 3D pore pressure models
– Field examples
– Class exercise
e) Stress modeling
– Data requirement
– Overburden stress
–  Stress orientation
–  Minimum horizontal stress magnitude
– Maximum horizontal stress magnitude
– Effect of pore pressure on stresses
– Effect of depletion on stresses
– Field examples
– Class exercise
f) 3D Mechanical Earth Models
– Advanced mechanical rock behavior models
– Compaction and subsidence
– Casing collapse and shear
– Salt bodies modeling
– Multi-lateral junctions
Module II. Wellbore Stability Analysis and Sand Production Prediction
Wellbore Stability
a) What is wellbore instability
b) Wellbore instability cost for industry
c) Factors affecting wellbore stability
d) Instability consequences
e) Data requirement
f) Reviewing off-set wells drilling data
g) Borehole Stress models
 – Linear elastic models
 – Poroelastic models
 – Elastoplastic models
h) Calculation of collapse and fracture gradients
i) Model calibration and validation
Analysis and Outcomes
a) Prediction of yield zone/breakouts dimensions around the borehole
b) Safe operating mud weight window
c) Casing and mud design
d)  Wellbore stability for deviated and horizontal wells
e) Well trajectory optimization
Special Cases
a) Wellbore stability in fractured formations
b) Accounting for weak bedding planes
c) Chemical wellbore instability
d) Wellbore stability for UBD
e) Field examples
f) Software demonstration
Sand Production Prediction
a) Well and perforation failure during production
b) Analysis approaches – analytical and numerical
c) Output of the analysis
d)  Impact on sand completion design – and sand management
e) Balance between completion design and production
f) Role of field development & 3D modelling
g) Field Examples
h) Software demonstration
Module III. Hydraulic/Acid Fracturing and Other Applications
Hydraulic Fracturing
a) Introduction to hydraulic fracturing
b) History of hydraulic fracturing
c)  Importance to unconventional reservoirs
Rock mechanics of Fracturing
a)  Data Requirements
b) Rock brittleness effect
c) In-situ stress effect on fracturing
– Fracture containment
– Fracture morphology
– Fracture orientation
–  Standard models vs advanced models
d) Fracture Initiation and completion design
e) Hydraulic fracturing modeling
– Well trajectory design for optimum fracture orientation
– Fracture extension prediction and optimization
– Hydraulic fracture interaction with natural fractures
– Multiple fracturing technology
f) Packer placement and zone selection
g) Hydraulic fracturing pressure transient Analysis
h)  Hard Rock vs soft rock fracturing (Frac & Pack)
i)  Other Fracturing applications:
– PWRI – Produced Water Re-injection
– CRI – Cuttings Re-injection
j) Software demonstration
Acid Fracturing
a)  Introduction to acid fracturing
b) History of acid fracturing
c) Similarities and differences of acid fracturing vs propped fracturing
d) Setting up the model
e) Acidizing material
f) Acid interaction with reservoir minerals
g) Acid transport mechanisms
h) Volume of rock removal and acid stoichiometry
i) Acid etched conductivity
j) Step-by-step procedure
k) Field Examples
Hamed Soroush
Dr Hamed Soroush is an entrepreneur and geomechanics expert with more than 25 years of subsurface engineering experience in oil and gas, geothermal and carbon storage. He has conducted or managed more than 250 consulting and research projects worldwide. Hamed is the CEO of PETROLERN providing strategic planning, leadership, and technical support for development and commercialization of leading-edge and value-add technologies for subsurface energy production and storage. Prior to that, he held several positions with companies such as Dong Energy, Shell, Weatherford, Senergy, GMI, and CSIRO. His current technical focus is on sustainable development of geothermal energy and carbon storage projects with advanced geomechanical analysis. Hamed holds a BSc in Mining Engineering, an MSc in Rock Mechanics, and a PhD in Petroleum Engineering from Curtin University in Australia. He has published numerous journal and conference papers and has been selected as SPE Distinguished Lecturer three time in 2012, 2017 and 2020.
Hamed has given different industry courses for PETROLERN, SPE, AAPG and EAGE and has been committee member for several SPE conferences and workshops.
The course is delivered online through our easy-to-use Virtual Campus platform. For this course, a variety of content is provided including:
– eLearning materials
– Videos
– Interactive multimedia content
– Live webinar classes
– Texts and technical articles
– Case studies
– Assignments and evaluation exercises
Students can download the materials and work through the course at their own pace.
We regularly update this course to ensure the latest news and state-of-the-art developments are covered, and your knowledge of the subject is current.
Live webinars form part of our course delivery. These allow students and tutors to go through the course materials, exchange ideas and knowledge, and solve problems together in a virtual classroom setting. Students can also make use of the platform's forum, a meeting point to interact with tutors and other students.
The tutoring system is managed by email. Students can email the tutor with any questions about the course and the tutor will be happy to help.
Basic knowledge of subsurface engineering is preferred
– Drilling, reservoir, completion, exploitation, and production engineering students and professionals
– Geoscientists, geologists, geophysicists, and petrophysicists
– Field development managers, technical advisors, core lab personnel
Once a student finishes the course and successfully completes the assignments and evaluation tests, they are sent an accreditation certificate. The certificate is issued by Ingeoexpert to verify that the student has passed the course. It is a digital certificate that is unique and tamper-proof – it is protected by Blockchain technology. This means it is possible for anyone to check that it is an authentic, original document.
This course help developing knowledge and skillsets to work as a subsurface engineering in oil and gas, geothermal, mining and civil engineering. Geomechanics is a unique and specialized capability that differentiate your from other subsurface engineers.
More info
Finish this course and get a certificate based on Blockchain
Field development geomechanics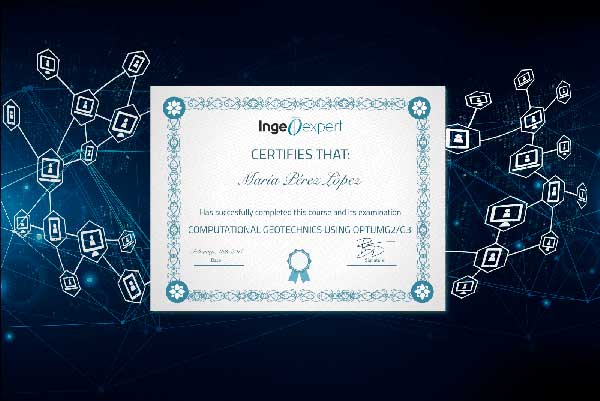 Blockchain technology makes the certificate incorruptible, enabling companies to verifiy its autenticity.
Field development geomechanics