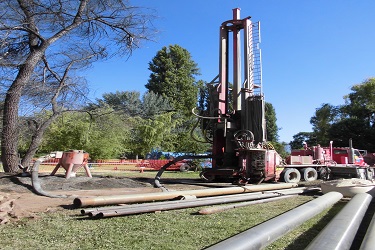 Introduction to field hydrogeology
Online course

50 hours / 6 weeks

Dates: 11th of December to 22nd of January

LAST FEW PLACES LEFT!!
Standard

Unemployed Or Student

$

281

$

162
Introduction
All hydrogeological projects require good quality information based on well planned and executed field measurements. This course describes the techniques that are required to obtain good quality field data and the hydrogeological science behind them.  It covers the instruments required for all types of field measurements and how to use them. The course also explains the theory behind the measurements and provides practical hints on how to carry them out and to evaluate the data. Case history examples are included that illustrate the field techniques and how the field data can be used.
Objectives
Understand hydrogeological terms.
How to plan a field study.
How to determine groundwater flow directions and quantities.
How to execute groundwater quality studies and interpret the data.
How to carry out pumping tests and interpret the data.
How to investigate unusual groundwater situations.
How to create a conceptual model.
1. Introduction to hydrogeology and groundwater levels
– Hydrological cycle, identify the aquifer units and then the groundwater levels, estimating using maps, data from observation boreholes and abstraction boreholes, using field instruments, historic records, initial work on desk study.
2. Monitoring other parts of the water cycle
– Rainfall, evaporation, springs, stream flow. How to handle the data.
3. Pumping tests
– How to plan and carry them out.
– Instruments to use.
– Examples for analysis.
4. Groundwater chemistry
– What to analyse for in different circumstances.
– How to plan a sampling programme.
– How to take samples including the equipment.
– How to interpret the data using Schoeller and Piper methods.
5. Conceptual model
– The steps to take in developing a conceptual model using the techniques covered in other sections.
6. Specialist techniques
– How to use the different types of data to solve specific groundwater problems.
– Examples include borehole prognoses, wells in thin aquifers, contaminated land studies, and rising water tables.
Rick Brassington
– Professor Rick Brassington has been a hydrogeologist working in the UK public sector water industry for 24 years before moving to consultancy.
– He worked at director level in three major consultancies before establishing his own consultancy practice in 1998.
– In addition to the day job, he was a part-time lecturer for the water industry training board for about 20 years, and at three universities and has been the Visiting Professor of Hydrogeology in the School of Engineering at Newcastle University since 2007.
– Despite all this he remains enthusiastic for field hydrogeology and the understanding of groundwater flow through the ground to identify the effects on the local water environment and groundwater abstractors.
The course is delivered online through our easy-to-use Virtual Campus platform. For this course, a variety of content is provided including:
– eLearning materials
– Videos
– Interactive multimedia content
– Live webinar classes
– Texts and technical articles
– Case studies
– Assignments and evaluation exercises
Students can download the materials and work through the course at their own pace. We regularly update this course to ensure the latest news and state-of-the-art developments are covered, and your knowledge of the subject is current.
Live webinars form part of our course delivery. These allow students and tutors to go through the course materials, exchange ideas and knowledge, and solve problems together in a virtual classroom setting. Students can also make use of the platform's forum, a meeting point to interact with tutors and other students.
The tutoring system is managed by email. Students can email the tutor with any questions about the course and the tutor will be happy to help.
Graduate geologists, environmentalists and civil engineers who wish to obtain a good understanding of hydrogeological fieldwork. The course will also be useful for undergraduates studying these topics who wish to gain practical knowledge of hydrogeological field techniques.
Once a student finishes the course and successfully completes the assignments and evaluation tests, they are sent an accreditation certificate. The certificate is issued by Ingeoexpert to verify that the student has passed the course. It is a digital certificate that is unique and tamper-proof – it is protected by Blockchain technology. This means it is possible for anyone to check that it is an authentic, original document.
You will be able to download the certificate in an electronic format from the Virtual Campus platform. The certificate can be forwarded by email, shared on social networks, and embedded on websites. To see an example, click here.
Hydrogeologists work in a variety of organizations that range from geological surveys, environmental regulators and consultant companies in hydrogeology, environmental and civil engineering disciplines. This course will enhance obtaining your first job or help getting promotion. It will also be of value to environmentalists, civil engineers and all those who work in fields where groundwater data is important.
More info
Finish this course and get a certificate based on Blockchain
Introduction to field hydrogeology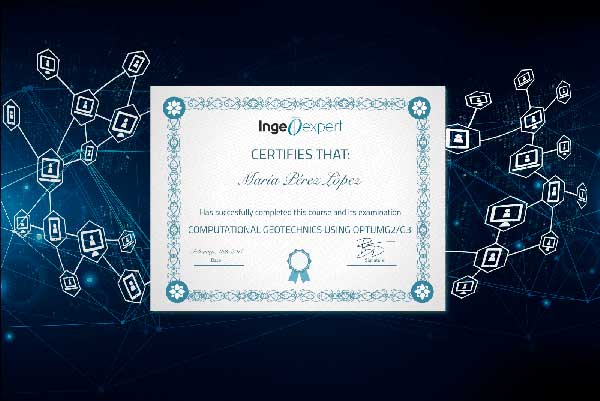 Blockchain technology makes the certificate incorruptible, enabling companies to verifiy its autenticity.
Introduction to field hydrogeology