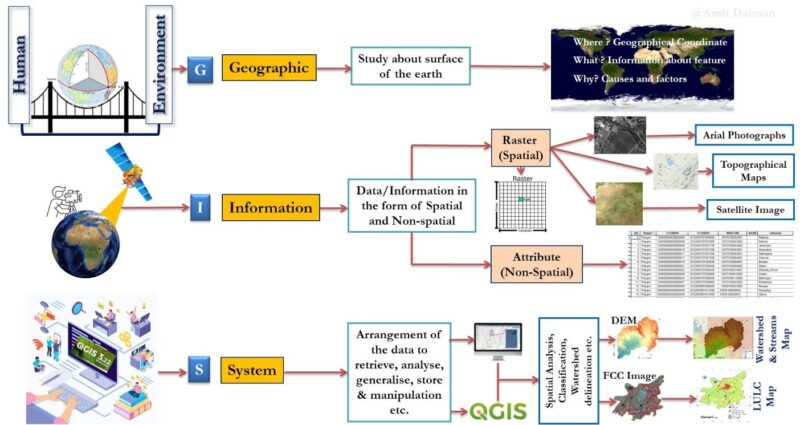 QGIS for Earth Observation and Geospatial Applications
| | |
| --- | --- |
| | Online course |
| | 50 hours / 6 weeks |
| | To be determined |
Introduction
The course "QGIS for Earth Observation and Geospatial Applications" is designed for land planners and hydrologists, professionals and students, those who want to gain skills in Earth Observation (EO) and Geographic Information System (GIS) applications. The course structure provides the QGIS software knowledge and allows one to understand the fundamentals of EO and GIS.
During the course, you will learn the fundamentals of EO, GIS, digital cartography, features of QGIS software, types of data, automated streams and watershed delineation, GIS data creation, spatial analysis, land cover mapping and spectral Indices mapping. This course can be used as independent study material and a geospatial instructor for professionals and students, followed by course guidebooks and videos.
After this course, you will have an excessive understanding of the geospatial data, including raster and vector, map composition, watershed development plans, water management, land use planning, and automated feature extraction of a large area from open-source satellite images. This course aims to provide real-time solutions for land planners, water managers, geospatial technicians, and students using QGIS software and open-source data.
Objectives
To educate land planners, water managers and students in EO and GIS.
Provide an opportunity to understand the raster and vector data, spatial analysis and feature extraction through open-source data and QGIS software.
To make an expert in watershed modelling, land cover mapping, digital cartography and spectral indices.
---
Limited places.
Module 1: Fundamentals of Earth Observation and Geospatial Technologies (6 hours)
– Basics of Earth Observation and types of satellite data
– Fundamentals of GIS
– Digital Cartography: Elements of map, geodesy and projection system
– Introduction of QGIS software

Module 2: Data Preparation and Spatial Analysis (16 hours)
– Introduction of open-source data platforms
– Download open-source satellite data
– Pan-sharping the satellite data
– Georeferencing the scanned map over satellite data
– Preparation of the vector data (point, line and polygon) and digitisation
– Introduction of the geoprocessing and research tools
– Spatial analysis with vector data (clip, mask, buffer, merge, union etc.)
– Attribute editing (join excel data to vector data, area calculation, add and remove the attribute)

Module 3: Watershed Delineation (15 hours)
– Introduction of Digital Elevation Model (DEM)
– Download SRTM DEM
– Data Preparation: Mosaic, Subset
– Streams and watershed delineation: Fill sink, stream delineation, define outflow point, watershed delineation

Module 4: Satellite Image Processing (17  hours)
– Introduction of Landsat and Sentinel satellite data and their characteristics
– Introduction of Semi-Automatic Classification Plugin (SCP)
– Spectral signature (ROI for training data) for land cover classification
– Land cover preparation
– Accuracy assessment
– Spectral Indices Spectral Indices (NDVI, NDWI etc.)

Module 5: Digital Cartography in QGIS (5 hours)
– Types of maps
– Elements of Maps
– Map Composition

Assignment introduction with example (1 hour)
Choose any one project or both:
Prepare a land use and land cover map of any study area and write a scientific report. The structure followed: Introduction, Study area description with location map, methodology, Results including maps, charts, statistics, and reflections.
OR/AND
Delineate the watershed and streams of any study area and write a scientific report. The structure followed: Introduction, Study area description with location map, methodology, results, and all maps and reflections.
Mr Amit Daiman
Mr Amit Daiman is a scientific consultant in Remote Sensing and GIS, a young professional & commission member (expert) in CEM- IUCN, Switzerland for the south Asia network and an honorary member in ICCAs, Switzerland. He has also worked as a senior researcher in Madhya Pradesh Resource Atlas (MPRA) Division, Remote Sensing Application Center (RSAC), Madhya Pradesh Council Of Science & Technology (MPCOST), Vigyan Bhawan, Bhopal- India, Jr. researcher/MPCOST, GIS assistant/MPCOST, research assistant/Centre for Policy Studies (CPS, New Delhi), project intern/MPCOST and college lecturer/UoR (University of Rajasthan, Jaipur).
He has held good experience in the field of earth science, physical geography, remote sensing, digital cartography, remote sensing and machine learning, climate science, water science, digital image processing, geoinformatics, hydroinformatics, modelling and information systems development, project management, data analysis using quantitative & qualitative methods, database management and spatial analysis (8 Year Experience).
He holds MS in Hydroinformatics from IHE Delft Institute for Water Education – the Netherlands, M.Sc. in Remote Sensing & Geoinformatics (school of space science) from MDS University Ajmer – India, M.Sc. in geography from the University of Rajasthan, Jaipur – India. He received several distinguished awards and honors. He has published 10+ peer-reviewed papers, including chapters and resource atlases. He is a part of many scientific organisations and societies like CEM-IUCN, the Indian Society of Geomatics, ICCAs etc. His prime interest is to take Remote Sensing and GIS technology to the grassroots level so that it can be helpful to resolve the many issues like climate change, desertification, land degradation, water resources, biodiversity, livelihood and conservation of nature.
All of our courses are offered 100% online, through our intuitive Virtual Campus. Topics are taught through:
– Videos
– Interactive multimedia content
– Live classes
– Texts
– Case studies
– Evaluation exercises
– Additional documentation

The content is updated in each new course edition, so that knowledge is acquired around the latest news and state-of-the-art geotechnical engineering technology.
One of the most interesting aspects of our courses is the use of live videoconferences, in which teachers and students interact in a continuous exchange of knowledge and problem solving. In addition to this, students can make use of the platform's forum, a meeting point where they can interact with teachers and other students.
A tutoring system will also be established by email, which will resolve any possible doubts about the course, and which will serve as a point of connection for students with specific questions on each module.
Students can also download all course documentation, including texts, videos, video conferences and exercises.
Land planners, GIS analysts, water managers, geospatial technicians, and students.
At the end of the course, and as accreditation of knowledge acquired and of the technical and practical training, students who correctly complete the corresponding evaluation tests of the geotechnical engineering course will obtain an academic certificate issued by Ingeoexpert. This digital certificate is protected by Blockchain technology, making it unique and tamper-proof, thus enabling companies to verify its authenticity.
It can also be downloaded by students, forwarded by email and shared on social networks, as well as embedded on any website. You can see an example here.
– Geospatial Analyst
– GIS Expert
– Geospatial Engineer
– Earth Observation Scientists
– GIS Data Engineer
– Water Resource Management
– Remote Sensing and GIS Expert
– Watershed Planner
More info
Finish this course and get a certificate based on Blockchain
QGIS for Earth Observation and Geospatial Applications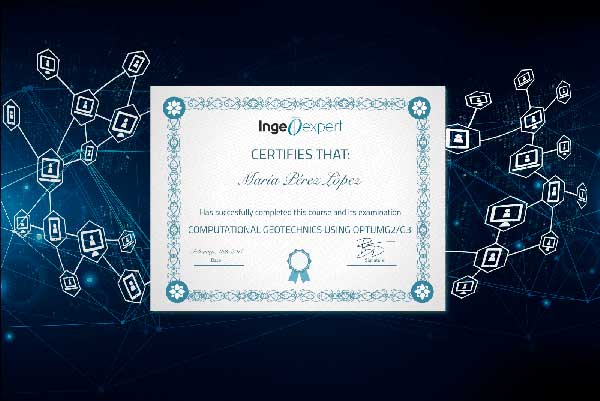 Blockchain technology makes the certificate incorruptible, enabling companies to verifiy its autenticity.
QGIS for Earth Observation and Geospatial Applications