Tunnel design with Plaxis
| | |
| --- | --- |
| | Online course |
| | 60 hours / 6 weeks |
| | Dates: 5th of October – 16th of November |
Standard

Unemployed Or Student

$

334

$

219
Introduction
Tunnels are one of the most important underground structures, which are built to facilitate passing through complex geological formation as well as topographical condition.
Design of tunnels is the art of employing engineering concepts and construction methodology. To provide a safe and feasible design, knowledge of geotechnical engineering, structural engineering and construction methodologies are required to be put together to produce a proper design. Ground behavior due to tunneling is non-linear and the procedure for designing a tunnel needs a number of complex calculations to evaluate effect of interaction between ground and support of excavation to reach to a safe and stable condition.
This process can be facilitated if computer methods are utilized. Since interaction between ground and tunnel support system, which is playing as a compensation in exchange with excavated soil, is a major matter of tunnel design, geotechnical software with the capability to model this interaction are an efficient tools in this regard. One of the most efficient way to accomplish designing a tunnel is to employ PLAXIS program, which is specifically developed to provide a hands-on tool for geotechnical engineers through tunnel analysis and design process.
Objectives
The main aim of this course is to acquire geotechnical engineer skills within tunnel design process by using PLAXIS software and it mainly focuses on step by step building some practical example of tunnels, which are simulation of sequential construction in reality. During the course, several practical applications of PLAXIS in analysis and design of bored and mined tunnels are discussed and through which some concepts of soil mechanics concerning selection of geotechnical parameters and type of analysis are reviewed.
---
Limited places.
---
– Tunnels:
– Mined or Mechanized Method of Tunnel Construction
– Discussion about Effect of Ground Condition on Tunneling
– Ground Deformation due to Tunneling
– Determining and Assigning Geotechnical Parameters
– PLAXIS:
– General Discussion about Interface of PLAXIS
– How to Build a FE Model
– FE Analysis of Tunnel
– Interpreting Calculation Results and Recommendations
– Discussion on Verifying Results of FE with Field Data or Empirical Solutions
Alireza Goodarzi
Alireza Goodarzi has been practicing geotechnical engineering discipline through involving in major water and transportation projects for more than 14 years. He has successfully delivered conceptual and detailed design of multiple subway and waterway tunnels and earth dams and provided field engineering service during the construction time of them.
Within this virtual platform, students are in continuous contact with professor in a tailored way, solving questions together, and widening knowledge and acquiring new skills. Students can also interact with other students and professors through webinars and forums.
Plenty of content can be found in the Campus: eLearning material, videos, technical articles, manuals, complementary documentation, real examples and exercises.
This course is useful for engineers and practitioners who are working in tunneling projects or may be encountered with construction of underground structure. Having the ability to work with a FE geotechnical software as PLAXIS enables them to make a preliminary estimation about the order of ground deformations, the type of the ground support system that is adequate for underground structure as well as the sequence of the job that can be proceeded to minimize the risk of instability. Although the interface of the program has been changed during the time when it was released first, PLAXIS has been using the same procedure for building FE models. New ground behavior models have been included and the user can even input the result of field test, such as CPT, to let the program distinguish main subsurface layers for FE model.
As evidence of knowledge gained throughout the course, a certificate will be issued from the Virtual platform. This certificate is based on the modern technology Blockchain, which increases security, prevents fraud, builds trust and ensures you're ready for the future.
This course can provide a general overview about the procedure for geotechnical design of a tunnel as well as acquiring application of a FEM software for analyzing tunnels. With regards to the tunnel geometry as well as method of construction that may be employed as mining or mechanized tunneling, effect of ground deformation due to tunnel excavation and the risk of ground instability should be assessed through the process of tunnel design. The learner will be exposed with the most geotechnical concepts that are essential in evaluation of ground deformation due to tunneling, stability of tunnel section, and proper selection of ground support system. Development of FE model of mined and mechanized tunneling in combination with important geotechnical matters will be discussed during this course. The learner will also become familiar with the procedure for analyzing stability and stage construction of tunnels and enable to interpret the result to evaluate if the support system is adequate and sequences of tunnel excavation produce no excess deformation.
More info
Finish this course and get a certificate based on Blockchain
Tunnel design with Plaxis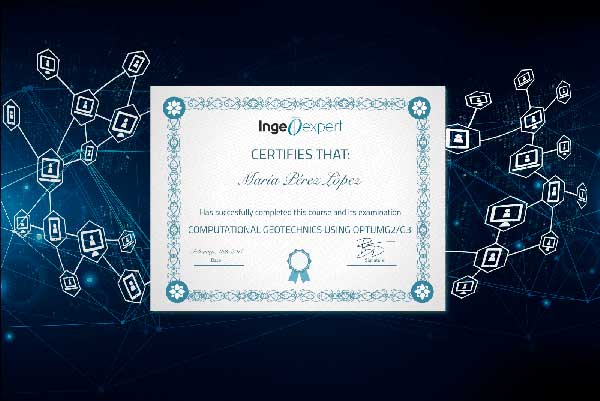 Blockchain technology makes the certificate incorruptible, enabling companies to verifiy its autenticity.
Tunnel design with Plaxis