4D Planning and Simulation with SYNCHRO 4D Pro
| | |
| --- | --- |
| | Online course |
| | 50 hours / 6 weeks |
| | To be determined |
In collaboration with Bentley Systems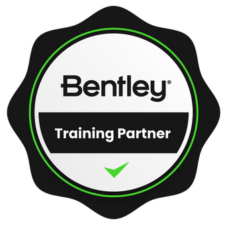 SYNCHRO 4D Pro license included
Get an official certificate provided by Bentley Systems
Introduction
Bentley Systems is a leading engineering and infrastructure software company. Bentley's industry-leading software solutions are used by professionals and organizations of all sizes for the design, construction, and operations of highways and bridges, rail and transit, water and wastewater, public works and utilities, buildings and campus, mining, and industrial facilities.
Today's challenging projects demand extraordinary management and planning – this is only achieved when great professionals work cooperatively for a common goal.
The use of 4D BIM in the management of construction projects, through the virtual simulation of the work, represents a radical improvement over traditional planning and execution control systems. SYNCHRO 4D PRO is the visual 4D Project Management software used by companies around the world for the construction of buildings and infrastructures. SYNCHRO's 4D technology facilitates the linking of BIM models to related activities according to CPM (Critical Path Method) guidelines, allowing the creation of construction simulations to dynamically identify and resolve space-time conflicts, and thus optimizing the performance of the project before starting the works.
This course, taught by Sergi de Ferrater, architect, BIM/VDC Manager and experienced teacher certified by Bentley Systems, is based on the creation of a 4D project, from the creation of the Work Breakdown Structure to linking models and 4D animation and is presented through a series of multimedia contents where practical cases are presented step by step that will serve as a basis for the student to develop any 4D planning project of any size, prepare a collaborative environment between teams from different companies that will participate in the construction of the project and produce impressive 4D animations to win contests.
Likewise, live classes and videoconferences will be held, which may be seen on a deferred basis in case of not being able to be present at them.
Objectives
The course will introduce you to 4D planning with SYNCHRO 4D PRO. It will cover everything you need to get started with SYNCHRO, including importing schedules and models, linking 3D objects to tasks, creating new tasks from the model, subdividing geometry, using 3D paths and 4D animation.
Upon completion of the course, you will be able to import a model and schedule, fully link the model to the schedule using color coding and growth simulation, review the construction sequence, and export a video to present to stakeholders and win contests and bids.
---
Limited places.
Module 1. Basis for 4D scheduling with SYNCHRO Scheduler. Part 1
– The Workspace Layout
– Workspace Management
– Options and Set-Up
– Calendars
– Creating tasks
– Creating the WBS
– Editing tasks properties
– Durations and task Links
– Task Constraints
Module 2. Basis for 4D scheduling with SYNCHRO Scheduler. Part 2
– Activity Codes
– Resources and Companies
– Task Filters
– Production rules
– Task Costs
– Baselines and scenarios
– Monitoring the schedule and Cost analysis
– Earned Value Analysis
– Monitoring schedule variance
– Printing the Gantt chart and EVA Graph
Module 3. Data Import and Basic 4D Linking
– Introducing 4D scheduling and Import schedule
– Importing IFC models
– The 3D View
– 3D Objects selection
– Assigning 3D Resources to tasks
Module 4. Advanced 4D Linking
– new tasks according the LOD of the model
– Model-based Scheduling
– Resource Appearance Profiles
– Resource Groups
– 3D Subdivision
– Completing the basic 4D Linking Process
– 4D Review and Color Modes
Module 5. Auto-matching
– Auto-Matching with User fields
– Creating an Auto-Matching Rule
– Auto-Matching with IFC User Fields and 3D Filters
Module 6: Adding Equipment and 3D Paths
– Adding Equipment
– Editing 3D objects
– Utilizing Equipment on tasks
– The Resource Wizard
– Creating simple 3D Paths
– Creating a complex 3D Path
– 4D Linking process for MEP model
Module 7 – Animation and Synchronization
– Create & Copy 3D Objects
– Cutting Planes & Viewpoints
– Creating an Animation
– Exporting an Animation
– Iray rendering mode
– Baselines and updating schedules
– Synchronizing 3D Models
Sergi Ferrater
Sergi is a Senior Architect by the UPC (Universitat Politècnica de Catalunya) with a long experience in consulting BIM / VDC systems for more than 25 years. His experience as Product Manager in two prestigious architecture software developers (ArchiCAD reseller and Nemetschek España, SA) and currently in AECon Soluciones, SL, Bentley Partner in Spain, has allowed him to know first-hand the different BIM design platforms and its application and use in the different phases of the life cycle of a project.
He has participated in the 4D project of the Johan Cruyff Stadium and of the Espai Barça of FC Barcelona as a collaborator for the development of the 4D project with SYNCHRO and in the implementation of SYNCHRO in companies subcontracted by the FCB.
Sergi is a qualified professor in different online BIM certification programs and his knowledge of the different platforms allows him to give a global vision of construction-oriented design, both practical and educational.
Currently Sergi is a Bentley certified Product Training Partner of OpenBuildings Designer and SYNCHRO and a BIM consultant in companies that are implementing BIM in their infrastructure and building projects.
All of our courses are offered 100% online, through our intuitive Virtual Campus. Topics are taught through:
– Videos
– Interactive multimedia content
– Live classes
– Texts
– Case studies
– Evaluation exercises
– Additional documentation
The content is updated in each new course edition, so that knowledge is acquired around the latest news and state-of-the-art geotechnical engineering technology.
One of the most interesting aspects of our courses is the use of live videoconferences, in which teachers and students interact in a continuous exchange of knowledge and problem solving. In addition to this, students can make use of the platform's forum, a meeting point where they can interact with teachers and other students.
A tutoring system will also be established by email, which will resolve any possible doubts about the course, and which will serve as a point of connection for students with specific questions on each module.
Students can also download the course documentation (texts, and exercises).
This course is intended for anyone involved in delivering construction projects, including planners and schedulers, BIM coordinators, and project managers. No previous knowledge of any project planning software such as MS Project is required.
At the end of the course, and as accreditation of knowledge acquired and of the technical and practical training, students who correctly complete the corresponding evaluation tests of the geotechnical engineering course will obtain an academic certificate issued by Ingeoexpert. This digital certificate is protected by Blockchain technology, making it unique and tamper-proof, thus enabling companies to verify its authenticity.
It can also be downloaded by students, forwarded by email and shared on social networks, as well as embedded on any website. You can see an example here.
– Architects and engineers in construction companies that use 3D/BIM models for their infrastructure construction, civil works and building projects.
– Project Manager
– BIM/VDC Coordinator
– BIM site managers
More info
Finish this course and get a certificate based on Blockchain
4D Planning and Simulation with SYNCHRO 4D Pro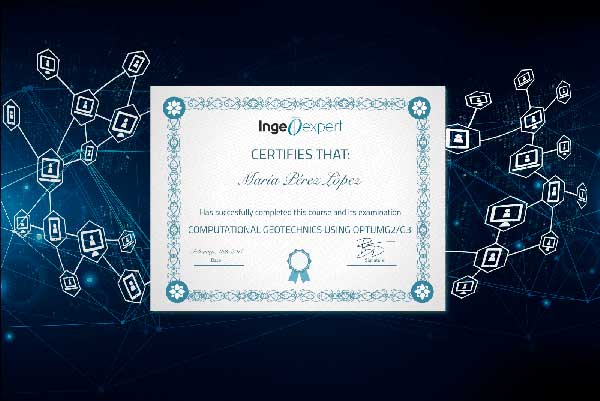 Blockchain technology makes the certificate incorruptible, enabling companies to verifiy its autenticity.
4D Planning and Simulation with SYNCHRO 4D Pro