MicroStation CONNECT Basics
| | |
| --- | --- |
| | Online course |
| | 50 hours / 6 weeks |
| | Dates: to be determined |
In collaboration with Bentley Systems

MicroStation CONNECT license included
Get an official certificate provided by Bentley Systems
Introduction
MicroStation CONNECT, made by Bentley Systems, is a versatile CAD (Computer Aided Design) software that has quickly become an important tool for conceptual designing, visualization, and layout of buildings, products, and road infrastructure in the architectural, product, and civil engineering industries. Using MicroStation CONNECT, a CAD user can design, develop, and document their design process of their products in a graphical form represented by using lines, curves, shapes, annotations, dimensions, and symbols. MicroStation CONNECT is precise and enables companies to transcend language barriers with visual imagery allowing design teams to communicate necessary manufacturing information of their products so that drawings can be interpreted globally.
Although MicroStation can offer its users the power of two-dimensional drawing production or three-dimensional model designing, this course has been specifically composed and arranged primarily for the amateur to learn the essential and fundamental level of two-dimensional CAD drawing production. This course can also be considered a precursor to future learning of three-dimensional MicroStation CONNECT.
Objectives
This course will provide an overall understanding of the fundamental tools needed to complete two-dimensional drawing projects in the Design Model, reference drawings to a Sheet Model, add and edit tables, place dimensions, annotations, and symbols. The student will also be able to create and use cells, parametric cells, isometric drawings, and print with a variety of printing options.
---
Students will have access to MicroStation CONNECT license.
Limited places.
Contents tab
Week 1
– Webinar 1 – An Introduction to the Course and Instructor
– Module 1: An Introduction to MicroStation CONNECT
– Module 2: Creating Geometry
– Module 3: Manipulation of Elements
– Module 4: Modifying Elements
– Application 1: Creating Lines and Shapes
Week 2
– Module 5: Design Organization and Levels
– Module 6: Multi-line Styles
– Application 2: Creating a Floorplan
Week 3
– Webinar 2: Comprehension of Drawing and Referencing
– Module 7: Working With Sheets and References
– Application 3: Referencing the Design to the Sheet Model
Week 4
– Module 8: Annotations
– Module 9: Dimensioning
– Module 10: Hatching
– Application 4: Detailing the Sheet Model
Week 5
– Module 11: Cells and Cell Libraries
– Module 12: Parametrics
– Module 13: Tables
– Application 5: Creating Cells and Tables
Week 6
– Webinar 3: Course Review and Discussion
– Module 14: Plotting, Printing, PDF's, and Seed Files
– Application 6: Finalizing the Drawing File
William Mertell
With over 20 years of diverse work experience on instructing, drafting, and engineering design (among others), William offer a vast amount of skills, and knowledge of several facets of drafting and construction from a unique perspective of working in the field and instructing in both academic and vocational settings. Experience includes teaching adults, developing curriculums, creating courses and programs from the ground up, supervising, project management, welding, operating heavy equipment, and industrial pipefitting. Being flexible and adaptable to challenging and continually changing environments, he uses an intuitive approach to teach, program structure, and management. Proven ability to collaborate with students, faculty, staff, peers, and local industries to develop strong relevant real-world material, content, objectives, and outcomes. Devoted to forming a learning venue that harbors an atmosphere that is inspiring, where meaningful interactive relationships among students and instructors are developed.
Within this virtual platform, students are in continuous contact with professor in a tailored way, solving questions together, and widening knowledge and acquiring new skills. Students can also interact with other students and professors through webinars and forums.
This course is designed for the new MicroStation CONNECT user and MicroStation v8i transitioning to the CONNECT version. This course is not intended to cover advanced material for the well-seasoned MicroStation CONNECT user.
As evidence of knowledge gained throughout the course, a certificate will be issued from the Virtual platform. This certificate is based on the modern technology Blockchain, which increases security, prevents fraud, builds trust and ensures you're ready for the future.
This software was developed for the architectural and engineering industries of which this course is intended for the novice user to become skilled enough for entry-level positions.
More info
Finish this course and get a certificate based on Blockchain
MicroStation CONNECT Basics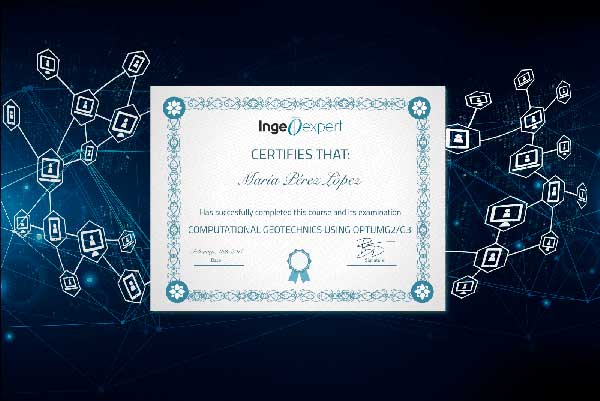 Blockchain technology makes the certificate incorruptible, enabling companies to verifiy its autenticity.
MicroStation CONNECT Basics