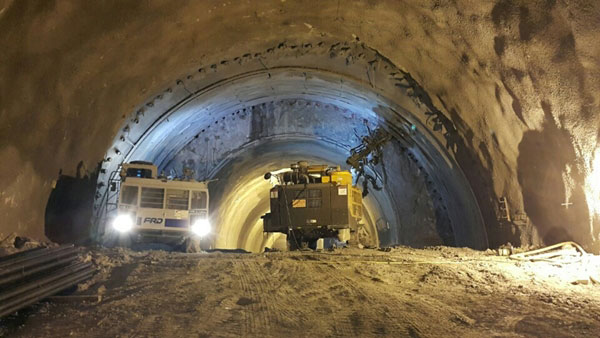 Ground support for tunnels in rock
| | |
| --- | --- |
| | 50 hours / 6 weeks |
| | Online course |
| | Dates: 15th of January to 26th of February |
Standard

Unemployed Or Student

$

356

$

292

Introduction
One of the most important tasks of a tunneling/mining professional is to develop construction and ground support methods that achieve safe underground excavations. Safety must be guaranteed not only throughout the design life of the structure (long-term) but also during construction (short-term). To successfully complete this task, engineers must have, as a minimum, basic knowledge of the design principles associated with ground support. The purpose of this course is to provide the learner with easy-to-understand introductions to some of the knowledge required to design ground support for tunnels in rock.
Firstly, it is essential to understand what failure mechanisms need to be addressed via design. In rock tunnels, these failure mechanisms are different than those observed in soft ground tunneling and soil mechanics due to the discontinuous nature of rock masses. One must consider and understand the inherent inter-relation between these failure mechanisms and the three basic ground support principles in rock tunneling: (a) suspension, (b) reinforcement and (c) surface retention. Secondly, the designer must also understand the inter-relationship between these failure mechanisms and construction methods. For example, the same ground support could be either safe or unsafe depending on the time of its installation (advance and support sequence) or if the tunnel has been excavated in full face or multiple headings (excavation sequence). Another example is the method of excavation and its associated impacts on ground support performance. For example, mechanized excavation methods such as roadheaders are much less likely to disturb the rock mass around the excavation opening than in drill and blast operations which certainly improve the performance of both reinforcing and surface retention elements (e.g. rockbolts and sprayed concrete linings)
Last, but not least, engineers must understand the most fundamental difference between the concepts used in the design of ground support and those used in the design of other structures, such as bridges or buildings, particularly when using a Load and Resistance Factor Design (LRFD) approach. The main component that loads a tunnel support is the ground or rock mass which also provides resistance. In other words, load and resistance are interdependent. With some exceptions, this also means that the design of ground support is inherently associated with displacement-controlled failure mechanisms where loads are not constant but a function of deformation. This also explain why some yielding is acceptable in ground engineering whereas it is avoided in other fields of engineering where failure mechanisms are load-controlled, e.g. the structural design of bridges.
Objectives
By the end of this course, you will have the needed background and basic knowledge to understand:
The typical failure mechanisms in rock tunnels and how to address them
The inter-dependency between loads and resistance and its impact on design
The basic ground support design principles in rock tunneling: (a) suspension, (b) reinforcement and (c) surface retention.
The detailed design of rockbolts and sprayed concrete linings
The impact of construction methods and excavation sequence
All subjects will be explained with easy to understand examples. Lessons will mainly focus on practical aspects of actual designs such that the contents of this course cannot be found in a single textbook. Where applicable and possible, design tools in the form of spreadsheets and trial period of useful programs will also be provided.
---
Full-featured versions of Unwedge and RS2 software included: to put the theory into practice, the course also includes the use of two Rocscience programs: Unwedge and RS2. Practical tutorials and exercises are used to illustrate the application of rockbolts and sprayed concrete lining in the design of ground support in the same way as used in real industry practice
---
Limited places.
Module 1: Brief overview of Rock Mechanics
– Rock classification
– Strength and deformability of intact rock
– Strength and deformability of rock discontinuities
– Strength and deformability of rock masses
– Continuum versus discontinuum modelling
Module 2: Ground Behaviour and Ground-Structure Interaction
– Failure Mechanisms and their impact on ground support
– Displacement-controlled versus load-controlled mechanisms
– Design Principles: (a) suspension, (b) reinforcement and (c) surface retention
– Use of numerical methods
Module 3: Design of rock bolts
– Types of rockbolts
– Suspension effect
– Reinforcement effect
– Use of numerical methods
Module 4: Design of sprayed concrete linings
– Impact on global or large-scale stability
– Design against local instability or small rock wedges
– Fibre versus mesh reinforcement
– Basics design requirements for fibre-reinforced sprayed concrete linings
Module 5: Effect of construction methods and excavation sequence
– Advance length, unsupported ground and personnel re-entry requirements
– 3D effects on support installation
– Impact of excavation sequence on support performance
– Need for pre-support or pre-reinforcement
David Oliveira
David is a Chartered Professional Engineer and Fellow of Engineers Australia (FIAust) with over 20 years of experience in geotechnical and civil engineering and highly regarded technical competence. He is passionate about innovation and intelligent risk taking in ground engineering and focus on delivering the highest levels of service and quality engineering to clients.
David is also an Adjunct Principal Fellow at the University of Wollongong, casual Lecturer at the University of Sydney and reviewer of International Journals such as the Canadian Geotechnical Journal, Computers and Geotechnics, International Journal of Rock Mechanics and Mining Science, Rock Mechanics and Rock Engineering and Proceedings of the Institution of Civil Engineers (UK)-Civil Engineering. He provides Technical Expertise and Advice on Underground Space Geomechanics, Ground Behaviour, Rock Mechanics and Numerical Modelling issues.
David is the receipient of a few technical awards such as the 2016 Australian Geomechanics Award while in 2012 he received the distinguished Coffey Medal Award for Technical Excellence in Consulting, a global award within Coffey. In 2009 he also received the David Sugden Award from the Australasian Tunnelling Society for young tunnelling engineers.
David has been involved on a broad range of projects varying from complex open pit designs and deep and highly stressed underground mines to major infra-structure civil projects within densely populated cities (tunnels, motorways, etc.).
The course is delivered online through our easy-to-use Virtual Campus platform. For this course, a variety of content is provided including:
– eLearning materials
– Videos
– Interactive multimedia content
– Live webinar classes
– Texts and technical articles
– Case studies
– Assignments and evaluation exercises
Students can download the materials and work through the course at their own pace.
We regularly update this course to ensure the latest news and state-of-the-art developments are covered, and your knowledge of the subject is current.
Live webinars form part of our course delivery. These allow students and tutors to go through the course materials, exchange ideas and knowledge, and solve problems together in a virtual classroom setting. Students can also make use of the platform's forum, a meeting point to interact with tutors and other students.
The tutoring system is managed by email. Students can email the tutor with any questions about the course and the tutor will be happy to help.
This course is aimed at professionals who have some undergraduate understanding of soil mechanics or geomechanics, such as:
– Geology, Geological, Mining and Geotechnical/Civil Engineering post-graduate students interested in learning the principles of ground support for support
– Geology, Geological, Mining and Geotechnical/Civil Engineering professionals who want to pursue or transition into a tunneling career
– Tunneling practitioners (technicians and engineers alike) who need to refresh or update their knowledge of ground support for tunnels in rock
– Structural Engineering professionals who want to have a more comprehensive understanding of Ground Support Design for tunnels in rock
Once a student finishes the course and successfully completes the assignments and evaluation tests, they are sent an accreditation certificate. The certificate is issued by Ingeoexpert to verify that the student has passed the course. It is a digital certificate that is unique and tamper-proof – it is protected by Blockchain technology. This means it is possible for anyone to check that it is an authentic, original document.
You will be able to download the certificate in an electronic format from the Virtual Campus platform. The certificate can be forwarded by email, shared on social networks, and embedded on websites. To see an example, click here.
Underground structures are one of the best solutions for urban problems and for interurban links in mountainous landscape. A wide range of underground structures are continuously needed to improve living conditions in cities. Tunnels for transportation (motorways, metros) and for public utilities (water supply, sewerage, electrical and telephone cables) are a priority in most developing countries, and underground structures for city center revitalization and for public use (libraries, museums, car parking, entertainment and leisure facilities) are of great interest in developed countries.
Whatever the type of underground structures in an urban environment, they all aim to free surface space for more noble human needs, improving the living conditions of our cities. In the case of interurban links, long-length tunnels are justified by saving time and reducing costs (shorter journeys and less energy consumption), maximizing safety and minimizing environmental impacts. There has never been a better time to become a tunneling engineer and this video by the ITA-AITES explains it well: https://www.youtube.com/watch?v=hvDhlSpfjC0
More info
Finish this course and get a certificate based on Blockchain
Ground support for tunnels in rock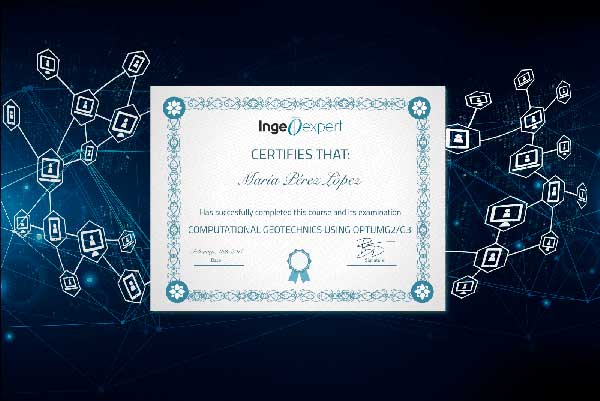 Blockchain technology makes the certificate incorruptible, enabling companies to verifiy its autenticity.
Ground support for tunnels in rock