Seepage Analysis with Seep/W software
| | |
| --- | --- |
| | Online course |
| | 50 hours / 6 weeks |
| | Dates: to be determined |
Get access to our job listing after finishing the course
Introduction
Soil and rocks generally consist of three phases: solid particles, liquid water and gaseous air. Existence of water in soils makes geotechnical issue much more complicated and performing precise seepage analysis is a critical step to the success of geotechnical engineering projects. Karl Terzaghi once wrote: "in engineering practice, difficulties with soils are almost exclusively due not to the soils themselves, but to the water contained in their voids. On the planet without any water, there would be no need for soil mechanics" (Terzaghi, 1939). Water-related issues mainly include:
Dam and levee seepage and stability;
Slope Stability;
Inflow to foundation excavation
Water pressure on retaining structures
Inflow to tunnel excavation
Settlement due to groundwater variation
Corrosive potential to concrete and steel
Tailing Dam and heap leaching
It can be seen that seepage analysis is highly required by geotechnical and mining projects.
Objectives
The course is carefully designed for the learners to understand fundamental and principles of water seepage and flow in soil/rock, to perform dam design, dewatering and seepage control with GeoStudio Seep/W, and to perform slope stability by combining Seep/W and Slope/W.
---
Limited places.
Week 1
Groundwater Basics, Energy in fluid mechanics, hydraulic conductivity, Anisotropic Soils, Properties of vadose zone.
Week 2
General Flow Equation (2-dimension), Laplace's Equation, Flow Nets, Seepage Analysis of steady flow based on Flow Nets: Seepage quantity, seepage forces, critical hydraulic gradient. Uplift (heave, blowout), Boiling, Piping and Internal erosion, Filter Design
Week 3
Introduction to GeoStudio Suite, Seep/W and Slope/W, GeoStudio project setup; Seep/W Model: Geometry and finite element mesh; Material Properties; Boundary Conditions; Seep/W analysis results view; Numerical Convergence
Week 4
Homogeneous Earth Dam Example-unconfined flow, Concrete dam example-confined flow; Seep/W Model-Anisotropy; Seep/W model- Axisymmetric model to simulate well dewatering; Transient Flow
Week 5
Dam/Levee Seepage Controls- liner; core and cutoff; drain; Dewatering – sump pumping; wellpoint system and deep wells
Week 6
Slope/W slope stability analysis with Seep/W; Slope Stability Analysis with Rain infiltration; Slope Stability under Steady flow and Rapid Drawdown Conditions
Dr. Shu
With a Doctorate degree in civil engineering, Shu has over 25 years of experience of university teaching, research and professional practicing in geotechnical engineering, engineering geology and Earthquake Engineering.
His expertise in geotechnical engineering includes deep and shallow foundations, deep excavation and shoring, slope stability and embankment, seepage and dewatering, liquefaction and earthquake engineering, and geotechnical numerical analysis. He is a registered professional engineer in California, Nevada, Maryland and Colorado, and a registered geotechnical engineer in California.
He has published about 30 peer reviewed journal papers, conference proceeding papers and book. He currently serves as a co-editor of International Journal of Geomechanics (ASCE).
The course is run in an online format. Throughout our innovative and powerful Virtual Campus, a dynamic and flexible environment is provided so the student can follow the course at his or her pace.
Within this virtual platform, students are in continuous contact with professors in a tailored way, solving questions together and widening knowledge and acquiring new skills. Students can also interact with other students and professors through webinars and forums.
Plenty of content can be found in the Campus: eLearning material, videos, technical articles, manuals, complementary documentation, real examples and exercises.
Project: a real-life project as the part of the "learning by doing" has been considered as the part of the course.
The aim is to apply your new knowledge in a real case and for each portion, you will receive a feedback.
– Undergraduate and graduate students with basic knowledges of geotechnical engineering
– All level geotechnical engineers
– Civil engineers and structure engineers with interest in extending their knowledge in seepage analysis
– Dam/levee engineers
– Tunneling engineers
– Mining engineers for design of tailing dam and heap leaching
As evidence of knowledge gained throughout the course, a certificate will be issued from the Virtual platform. This certificate is based on the modern technology Blockchain, which increases security, prevents fraud, builds trust and ensures you're ready for the future.
– All opportunities involving:
– Geotechnical engineering,
– Dam/levee design,
– Mining,
– Dewatering and seepage control
More info
Finish this course and get a certificate based on Blockchain
Seepage Analysis with Seep/W software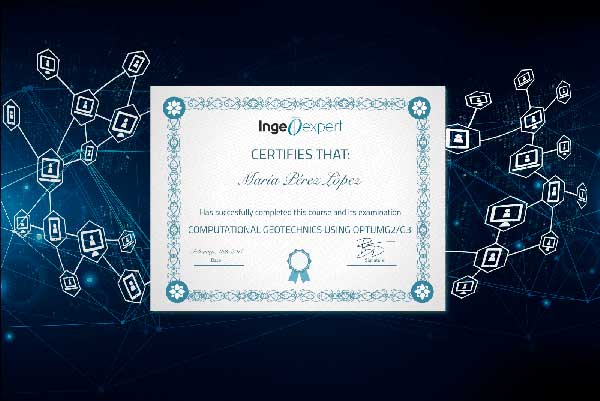 Blockchain technology makes the certificate incorruptible, enabling companies to verifiy its autenticity.
Seepage Analysis with Seep/W software