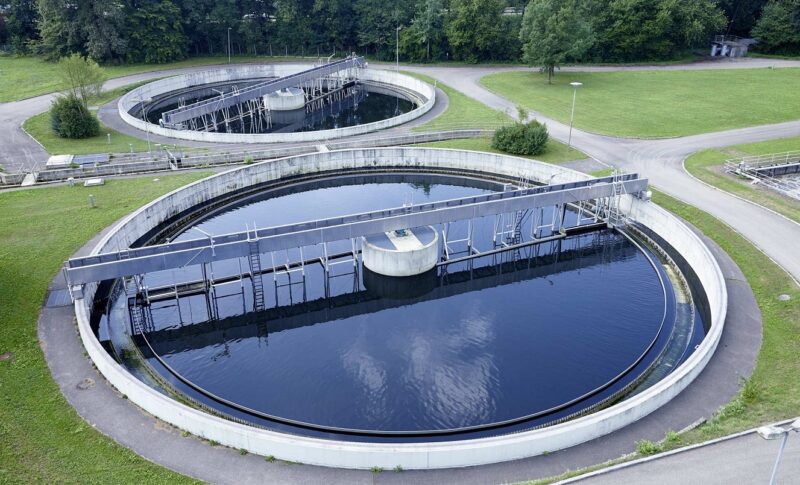 Water treatment
| | |
| --- | --- |
| | Online course |
| | 50 hours / 6 weeks |
| | To be determined |
In collaboration with the University of Bath, Water Innovation Research Centre

Introduction
Clean and wholesome drinking water is key for human health and wellbeing. Also, the production of food and beverages, goods and materials, cannot be done without access to clean water. Supply of drinking water is however not a straightforward process. Raw water is taken from different sources such as groundwater and surface waters. Water treatment is required to bring the water to a quality that complies with the standards for drinking water. Finally, the water quality must not deteriorate during transport to the tap.
In this course the whole process of water supply 'from source to tap' will be covered. You will learn about water quality parameters, and the design of water treatment systems and its unit operations. Finally, we will address how water quality can be protected in a distribution network.
The focus of the course is on supply of drinking water, but the knowledge can also be used in the context of water treatment within industrial processes where high water quality is required.
Objectives
In this course you will
Learn about water quality parameters that are important to produce clean drinking water. This will include an overview of water quality guidelines and regulations
Develop understanding of microbiological, chemical, esthetic and operational water quality parameters
Develop an in-depth knowledge about water treatment processes and the role of the individual unit operations in the treatment process
Understand the basic design principles of the water treatment unit operations.
Understand how water quality can be protected after treatment until it arrives at the tap
---
Limited places.
The course will comprise of:
– A syllabus covering all material of the course
– Six modules, each consisting of a short video introduction, a theoretical part in the syllabus, one or more exercises.

Introduction: water supply from source to tap
Water quality and regulations
Suspended solids removal and Disinfection
Removal of micropollutants and emerging contaminants
Groundwater treatment
Water quality during distribution
– Four live webinars covering the following topics: 1) Water resources and Water Quality (after module 2), 2) Drinking water from surface water (after module 4), 3) Drinking water from ground water (after module 5) 4) Water quality during transport and distribution (after module 6). The webinars will be interactive sessions to challenge the students. This can be debates, solving problems, Q&A sessions etc.
– Supervision via forums
Jan Hofman
Professor Jan Hofman is Professor of Water Science and Engineering in the Department of Chemical Engineering at the University of Bath. He has over 30 years' experience in research and development in the water sector. Jan is the Director of the Water Innovation and Research Centre at the University.
The Centre is a campus-wide environment to engage globally in research and policy on water. The centre comprises multidisciplinary research teams, with contribution from all faculties and departments. It has wide expertise in the natural sciences and engineering, as well as in social, economic, and political sciences, in policy, and in business management. Jan is also co-Director of the EPSRC Centre for Doctoral Training in Water Informatics Science and Engineering and co-Director of the GW4 Water Security Alliance. Furthermore, he is Leader of the Working Groups Urban Water Security in Water Europe, member of the IWRA Task Force Water Security and board member of the IWA SG on Assessment and Control of Hazardous Substances in Water.
Jan has broad research interests in Water Treatment (drinking water, wastewater), Water Quality (surface waters, sewers, drinking water), Water Security and Urban Water Management.
The course is delivered online through our easy-to-use Virtual Campus platform. For this course, a variety of content is provided including:
– eLearning materials
– Videos
– Interactive multimedia content
– Live webinar classes
– Texts and technical articles
– Case studies
– Assignments and evaluation exercises
Students can delivery the materials and work through the course at their own pace.
We regularly update this course to ensure the latest news and state-of-the-art developments are covered, and your knowledge of the subject is current.
Live webinars form part of our course delivery. These allow students and tutors to go through the course materials, exchange ideas and knowledge, and solve problems together in a virtual classroom setting. Students can also make use of the platform's forum, a meeting point to interact with tutors and other students.
The tutoring system is managed by email. Students can email the tutor with any questions about the course and the tutor will be happy to help.
The course is aimed at anyone who is interested in water quality and water treatment. The focus is mainly municipal water supply, but it is also relevant for water treatment in industrial applications. A basic knowledge of mathematics, physics and chemistry is required to be able to follow this course.
Once a student finishes the course and successfully completes the assignments and evaluation tests, they are sent an accreditation certificate. The certificate is issued by Ingeoexpert to verify that the student has passed the course. It is a digital certificate that is unique and tamper-proof – it is protected by Blockchain technology. This means it is possible for anyone to check that it is an authentic, original document.
When the course is finished successfully, you should be able to work in areas where water supply is relevant. Career opportunities would be around in areas of Water Utilities, Water Authorities, Urban planning etc. Also, opportunities exist in industrial water applications where high water quality is needed.
More info
Finish this course and get a certificate based on Blockchain
Water treatment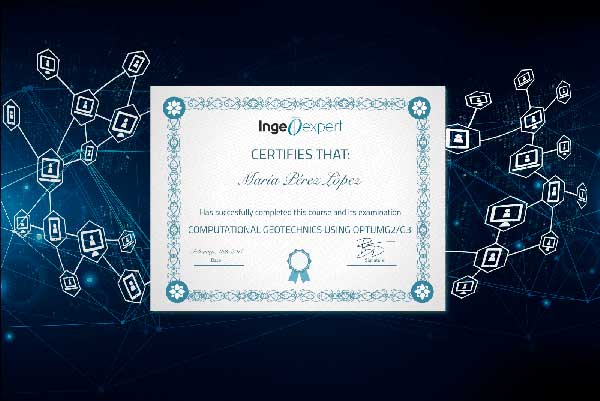 Blockchain technology makes the certificate incorruptible, enabling companies to verifiy its autenticity.