AutoCAD Civil 3D for Civil Engineering
| | |
| --- | --- |
| | Online course |
| | 50 hours / 6 weeks |
| | Dates: to be determined |
Introduction
This course introduces the core concepts of project design using Autodesk Civil 3D. Civil 3D software is utilized in many Engineering firms to design projects of all sizes and budgets. Civil Engineers, Land  Surveyors, Landscape Architects, Structural Engineers, Traffic Engineers, and others can benefit from the tools and dynamic design capabilities of this software, allowing project teams to work collaboratively across disciplines to successfully complete their projects.
In this course, students will learn the skills required to work with the primary design components in Civil 3D to complete typical project tasks. This includes survey tools, surfaces, grading, corridors and pipe networks. Students will complete tasks typically required on a Civil Engineering project. The goal of this course is to provide students with the basic knowledge they need to immediately work in the Civil 3D software.
The course is presented through video tutorials and multimedia content within the Moodle virtual platform, with exercises like tests and practical cases, along with live webinars.
---
Limited places.
Week 1
Course Introduction
Course Goals
Instructor Introduction
Learning the Interface

– Toolspace

– Prospector Tab
– Settings Tab
– Survey Tab
– Toolbox Tab

– Ribbon
– Panorama

Project Setup

– Templates
– Data References
– External References
– Project Structure for Small Projects/Project Teams
– Project Structure for Large Projects/Project Teams

Civil 3D Objects and Styles

– Dynamic Design
– Styles
Week 2
Working with Civil 3D Points
Using the Survey Database

– Points
– Survey Figures
– Automated Line Work

Advanced Linework Commands
Creating Surfaces

– From Points
– From Linework
– From GIS Data
– Boundaries
– Editing
– Analysis
– Composite Surfaces
– Volumes
Week 3
Understanding Sites
Modeling with Feature Lines

– Creating Feature Lines
– Editing Feature Lines
– Managing Feature Lines and Sites

Grading the Site

– Creating a Grading Group
– Creating a Grading Object
– Creating a Grading Infill
– Editing the Grading Object
– Volumes
– Deleting the Grading Groups

Site layout using Alignments and Parcels

– Alignments
– Parcels
– Managing Alignments and Parcels with Sites
Week 4
Roadway Design

– Profiles and Profile Views

– Surface Profiles
– Design Profiles

– Assemblies and Subassemblies
– Corridor Modeling

– Creating the Corridors
– Creating a Corridor Surface

– Sections and Mass Haul
Week 5
Pipe Network Layout

– Gravity Pipe Network
Pressure Pipe Network
Week 6
Sheet Sets
Sharing and Plotting
Plan Production

– Viewports
– View Frames
– View Frame Groups

Reports
D. Matthew Facer, CM-BIM
Matt Facer has over 20 years of professional experience as a CAD, BIM and GIS Manager.  He currently works as a Design Technology Manager for a Civil Engineering firm.  Prior to that, he worked for 11 years in the Architecture industry.  Matt is a certified professional in Autodesk AutoCAD and Autodesk Civil 3D, and has professional experience using Autodesk Revit, Autodesk InfraWorks, and Esri ArcGIS software.  Matt also earned his Certificate of Management – Building Information Modeling from the Assocaited General Contractors of America.
The course is run in an online format. Throughout our innovative and powerful Virtual Campus, a dynamic and flexible environment is provided so the student can follow the course at his or her pace.
Within this virtual platform, students are in continuous contact with professor in a tailored way, solving questions together, and widening knowledge and acquiring new skills. Students can also interact with other students and professors through webinars and forums.
Plenty of content can be found in the Campus: eLearning material, videos, technical articles, manuals, complementary documentation, real examples and exercises.
This course is aimed at students, recent graduates and Civil Engineers who want to begin developing skills using Autodesk Civil 3D software.
As evidence of knowledge gained throughout the course, a certificate will be issued from the Virtual platform. This certificate is based on the modern technology Blockchain, which increases security, prevents fraud, builds trust and ensures you're ready for the future.
Many Civil Engineering firms utilize Autodesk Civil 3D as an essential part of the design process. The topics covered in this course provide a comprehensive overview of the core concepts needed to be a designer, engineer or project manager in a Civil Engineering firm.
Get a free virtual campus tour
Finish this course and get a certificate based on Blockchain
AutoCAD Civil 3D for Civil Engineering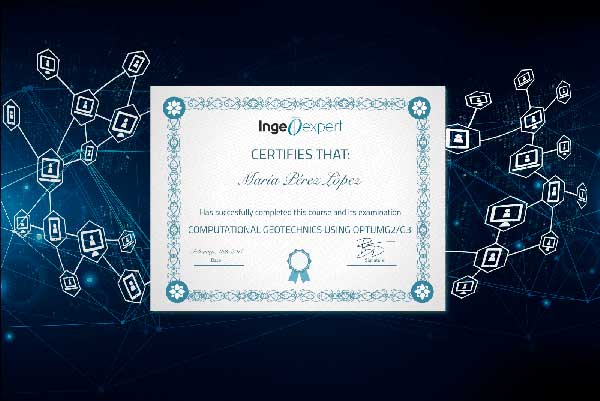 Blockchain technology makes the certificate incorruptible, enabling companies to verifiy its autenticity.
AutoCAD Civil 3D for Civil Engineering