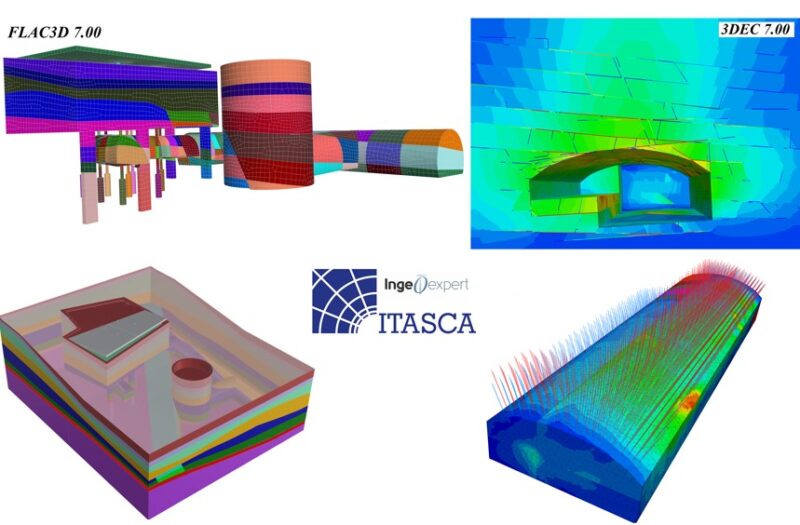 Advanced Numerical Modelling in FLAC3D and 3DEC
| | |
| --- | --- |
| | Online course |
| | 50 hours / 6 weeks |
| | Dates: 13th of November to 25th of December |
Standard

Unemployed Or Student

$

360

$

265
Full-featured versions of FLAC3D and 3DEC software included
Introduction
Three-dimensional (3D) non-linear geomechanical numerical models (e.g., 3DEC and FLAC3D) could be said to be inevitable when designers target an optimized design and when the design involves complex interactions among irregular geometries, geological structures (e.g., dykes, faults), varying stress regime, or complex scale-dependent constitutive behavior of the rock mass. With increasing demands for using advanced numerical modelling for ground-structure interaction analysis, it is critical to select a correct modelling tool, represent geometries with high quality mesh, choose the most representative constitutive model, and carefully interpret the results. However, comprehending all these fundamental aspects through self-learning or via the extensive documentations of the modelling tools can be overwhelming, take considerable time – and in most cases impractical (This could be extremely useful to give inexperienced modellers a flying start. i.e., better modelling = safer design). This course has been designed to deliver a practical understanding of the advanced numerical modelling process in FLAC3D and 3DEC (mainly scripted in FISH programming language built into these programs) in conjunction with creating geometries in Rhinoceros and Griddle.
Objectives
It is envisaged that attendees will obtain gain the necessary skills to tackle challenging engineering problems via advanced numerical modelling. Hence, this course:
Provides students with the practical knowledge of creating complex geometries in Rhinoceros required for modelling in FLAC3D as well as coding in FISH for 3DEC simulations
Introduces the procedure for estimating and coding rock mass parameters for FLAC3D and 3DEC required in advanced constitutive models
Establishes a step-by-step 3DEC model setup and analysis throughout a case example of a cavern-pillar constructed sequentially in a hard rock mass environment
Presents the procedure of FLAC3D modelling via a case example of shaft-adit-tunnel excavated in a soft ground environment
Module 1 – An Introduction to Advanced Numerical Modelling: Where and What to Use? and modelling steps, results analysis/interpretations, and model validation/calibration with real data from lab tests or field measurements
Module 2 – Geomechanical Considerations:  Estimation of rock mass parameters and initial conditions for continuum and discontinuum modelling, calculations and scripting a FISH Code to conduct Synthetic Rock Mass (SRM) testing, advanced constitutive models, programming for the in-situ stress assignment, etc.
Module 3 – Geometrical Considerations: Creating geometries and mesh in 3DEC using a FISH function and building geometries in Rhinoceros and meshing it in Griddle for FLAC3D analysis
Module 4 – Modelling in 3DEC 5.20: scripting a FISH code to conduct sequenced excavation of a cavern-pillar in hard rock supported by rock bolts
Module 5 – Modelling in FLAC3D 7: scripting a FISH code to conduct sequenced excavation of a shaft-tunnel in soft ground (with shotcrete and rockbolts support)
Dr. Ali Keneti
Dr. Ali Keneti is a numerical modeller conducting ground-structures interaction studies with Itasca's FLAC3D and 3DEC for tunnelling projects in AU/NZ region. Dr. Keneti holds 15 years of professional and research experience in geomechanical aspects of Civil and Resources Engineering in North America and Austrasia (including Tunnelling, Hydro-Electric, Mining, and Pipeline projects). He is a registered professional engineer in Canada (PEng – British Columbia), co-author of several scientific articles and an invited reviewer for renowned international journals in Geomechanics.
* Professor David Oliveira and Dr. Alun Thomas will also join as guest professors in some of the webinars.
The course is delivered online through our easy-to-use Virtual Campus platform. For this course, a variety of content is provided including:
– eLearning materials
– Videos
– Interactive multimedia content
– Live webinar classes
– Texts and technical articles
– Case studies
– Assignments and evaluation exercises
Students can download the materials and work through the course at their own pace. We regularly update this course to ensure the latest news and state-of-the-art developments are covered, and your knowledge of the subject is current.
Live webinars form part of our course delivery. These allow students and tutors to go through the course materials, exchange ideas and knowledge, and solve problems together in a virtual classroom setting. Students can also make use of the platform's forum, a meeting point to interact with tutors and other students.
The tutoring system is managed by email. Students can email the tutor with any questions about the course and the tutor will be happy to help.
The main requirement for this course is to be passionate about engineering and enthusiastic to solve challenging issues in 3D. Having a passion for programming is a significant plus. Previous knowledge of rock mechanics and geotechnical engineering and exposure to modelling environment (2D or 3D) would be beneficial. However, since the focus of this course would be only on the modelling aspects and not the basics of geomechanics and/or tunnelling, it would be beneficial to take this course with or after completing the two tunneling design subjects offered by Ingeoexpert: "Ground support for tunnels in rock" and "Soft ground tunnelling course".
Once a student finishes the course and successfully completes the assignments and evaluation tests, they are sent an accreditation certificate. The certificate is issued by Ingeoexpert to verify that the student has passed the course. It is a digital certificate that is unique and tamper-proof – it is protected by Blockchain technology. This means it is possible for anyone to check that it is an authentic, original document.
You will be able to download the certificate in an electronic format from the Virtual Campus platform. The certificate can be forwarded by email, shared on social networks, and embedded on websites. To see an example, click here.
With increasing demands for using advanced numerical modelling for ground-structure interaction analysis, knowledge of conducting and/or interpreting 3D models in geotechnical engineering is becoming the key asset to major engineering firms globally. Understanding Numerical modelling also helps more senior people to manage the design process.
More info
Finish this course and get a certificate based on Blockchain
Advanced Numerical Modelling in FLAC3D and 3DEC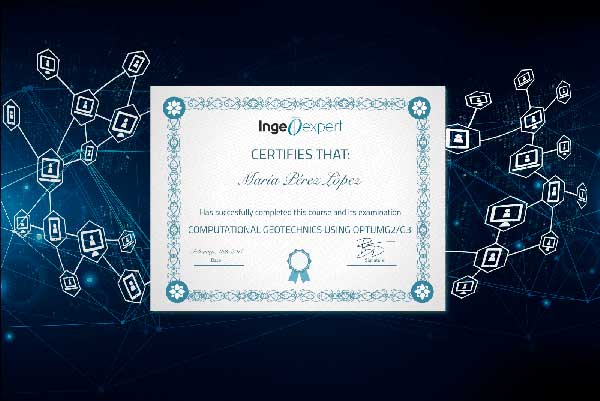 Blockchain technology makes the certificate incorruptible, enabling companies to verifiy its autenticity.
Advanced Numerical Modelling in FLAC3D and 3DEC